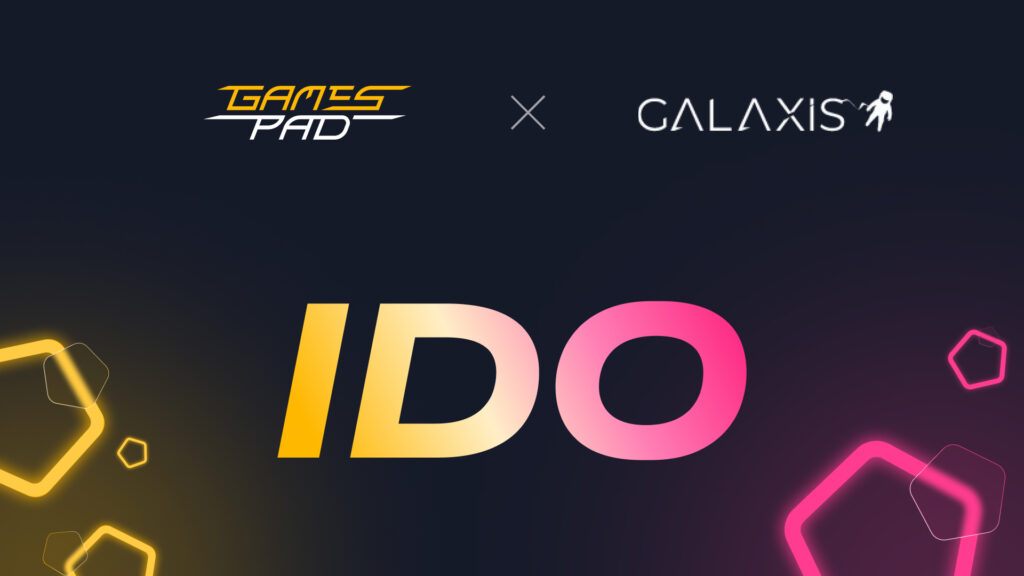 GamesPad is happy to announce an IDO deal with Galaxis, a decentralized community platform that values your unique perspective and lets you turn your vision into reality.
In a world where the convergence of blockchain technology and gaming is reshaping digital landscapes, strategic collaborations are increasingly becoming the bedrock of innovation. One such exciting partnership catching the eye of industry observers is the imminent Initial DEX Offering (IDO) deal between GamesPad and Galaxis.

GamesPad, a renowned name in the blockchain gaming ecosystem, is known for its multichain launchpad that enables seamless investments in high-quality IDO/INO/VC deals with GameFi and Metaverse projects. On the other hand, Galaxis is a decentralized community platform that holds a unique position in the blockchain industry. It values diverse viewpoints and empowers individuals to turn their visions into reality, offering a limitless expanse of possibilities.

This article aims to delve into the specifics of this groundbreaking IDO deal, exploring the unique elements of Galaxis in the blockchain sector and what this collaboration means for the future of both entities. Read on!
About Galaxis
Galaxis is a decentralized community platform that encourages the unique perspectives of individuals, empowering them to turn their visions into tangible realities. With Galaxis, the scope of what can be achieved is truly limitless.
This platform offers the unique feature of crafting personalized membership cards for any community, whether it's artists, athletes, or businesses of varying sizes. The user-friendly web interface offered by Galaxis streamlines the process of representing a brand in a way that truly captures its spirit. A membership card is accessible to all, whether it's earned, received at no cost, or bought on the open market.
But Galaxis is more than just a membership card system. It serves as a platform where one can create, engage with, and monetize their own community, products, and services. By enhancing the bond between brands and their followers, Galaxis revolutionizes the creator economies utilized by platforms such as Patreon, and others. It proposes a new model in engagement, funding, and monetization.
Top communities launched with Galaxis include The Association NFTs by NBA, Ether Cards Founder, Steve Aoki, The Mike Tyson Collection by Cory Van Lew, Pluto Alliance V2, Lamello Ball Collectible, and Link Marine TOADs. These communities represent a diverse range of interests and industries, highlighting the versatility and wide-reaching appeal of the Galaxis platform.
Galaxis main features
Powerful NFT Collections
Users can create and deploy beautiful and dynamic NFT membership cards via web interface
Meaningful Perks
Users can add utilities, features, and assets to the membership cards that are valuable for your community
Community Governance
Voting and other DAO features
Engagement Tools
Sticker Books, Forges and other robust features turn membership cards into instant collective games
Gamification 
Possibility to let communities play online tournaments and Mass Multiplayer Online Card Games
Built-in Marketplace
Own, exclusive marketplace, where users can enjoy royalties
Self-Sovereignty
Own your community and assets. Community members own assets and perks. Sovereignty and privacy by design
Monetization
Charge for membership tiers, perks, upgrades and utilities. Users can enjoy secondary market royalties
Modular Design
New utilities, services, games and engagement tools can be easily engagement to community 
Why you should invest in Galaxis
A host of reasons make Galaxis an appealing investment prospect. To begin with, Galaxis stands as a groundbreaking, decentralized platform that bestows individuals and organizations with the power to actualize their visions. Its standout proposition allows users to tailor-make membership cards for any community – be it artists, athletes, or businesses, regardless of size. This flexibility paves the way for a wealth of opportunities for engagement and revenue generation.
More than just a system for membership cards, Galaxis is a comprehensive platform that facilitates users in building, interacting with, and profiting from their own communities, products, and services. This functionality amplifies the relationship between brands and their audience, shaking up the creator economies currently employed by platforms like Patreon and others. In presenting a fresh approach to engagement, funding, and monetization, Galaxis emerges as a compelling investment choice.
An additional aspect to consider is the platform's exclusive digital currency, the GLX coin. Investors can utilize this for a range of purposes including payments, community events, and voting. The incorporation of this digital currency within the platform not only cultivates a self-sustaining community economy but also injects an element of thrill and participation for users.
Lastly, Galaxis prides itself on its user-centric design. Its intuitive web interface streamlines the process of brand representation, making it reachable to all. With its ease of use married with its pioneering features, Galaxis presents itself as an enticing investment option for those intrigued by the crossroads of technology, community development, and creative articulation.

How to Join Galaxis IDO on GamesPad?
Are you a newbie and have never participated in the IDO deals on GamesPad? In this comprehensive tutorial, you will find everything you need to know to activate the tier on GamesPad and start investing in deals on our platform. Here are several steps to get started:
Create a wallet
Register and complete KYC (Know-Your-Customer procedure)
Activate your tier on GamesPad:
3.1. Buy $GMPD tokens
3.2. Purchase a GamesPad NFT (Optional)
3.3. Lock-in $GMPD tokens (for a token-based tier) and NFTs (for a token+NFT based tier) on the platform
Join the IDO deal on GamesPad
You can also stake and farm your $GMPD tokens to activate your tier. Please check out our New Token System, and this step-by-step guide for learning how to invest with GamesPad. 
DISCLAIMER: This material should not be construed as a basis for making investment decisions or as a recommendation to participate in investment transactions. Trading digital assets may involve significant risks and can result in the loss of invested capital. Therefore, you must ensure that you fully understand the risk involved, consider your level of experience, investment objectives, and seek independent financial advice if necessary.
A minimal investment tier is Bot which allows investing 20 BUSD and more.
Infrastructure Project / Web 3.0