DEXTools: A Detailed Guide on Its Functionality for Effective Investment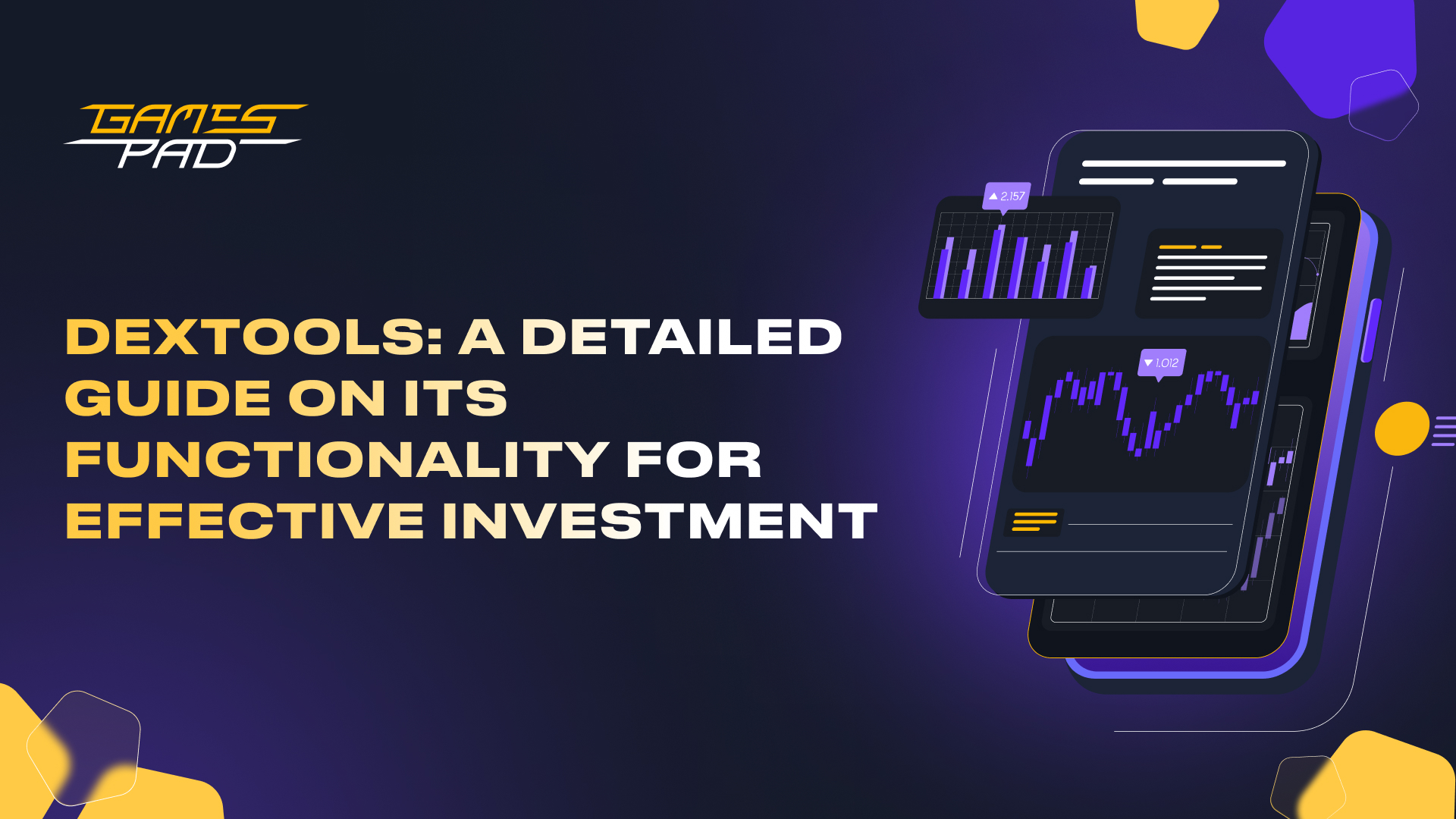 With the rise of DeFi in 2020, the so-called battle between centralized exchanges and DeFi started. While the proponents of DeFi insist that having custody over your private keys and, thus, money is much safer than entrusting your coins to a centralized exchange, using DeFi comes with a lot of challenges, such as:
high transaction fees
security concerns
complexity
accuracy of market data.
While CEXes deliver users accurate market data within their platforms, DeFi relies on on-chain data where thousands of protocols and metrics shall be considered. This is one of the main reasons why new-generation DeFi tools such as DeFiPrime, DeFiLlama, and DEXTools focus on offering effective mechanisms to overcome the mentioned challenges and enable decentralized exchanges to compete with CEXes in all regards.
Here, we will explore DEXTools, an ecosystem that delivers crypto traders accurate and relevant blockchain data about market movements, the state of the markets, and other metrics. The DEXTools ecosystem can be called a real central hub for the DeFi community because it delivers DeFi a comprehensive set of tools to enable it to compete with CEX efficiently. Here we go, with a detailed DEXTools overview.
DEXTools is an advanced DApp for DeFi. DEXTools offers a comprehensive set of advanced tools from which each decentralized exchange can benefit greatly. Among them, you can find several charting tools, tools to track liquidity movements, and advanced trading analytics among others.
Here, you can type the contract address of any token to get detailed information on the asset, such as its liquidity, the DEXTools score, the community ranking, the token market cap, and the number of token holders. This data will help you to determine whether the token is worth your attention.
Trading pair explorer
The pair explorer provides you with price data, charts, market cap data of a selected token, and other information needed to place buy and sell orders at the right time and benefit from each price movement.
Big Swap Explorer
DEXTools analyzes the wallet addresses of a specific traders' group for the Big Swap Explorer to allow the tool to detect significant movements of digital assets and enable traders to copy them.
Multiswap functionality
Multiswap runs on multiple DEX portals to speed up the swap time and allow you to access multiple cryptocurrency pairs.
Asset management in a single place
With DEXTools, traders can manage all their assets from a single interface. There, you perform your own transactions, track your favorite cryptocurrencies, and follow any cryptocurrency in real time. DEXTools allows you to discover market trends and do your own research based on the provided data.
Smart bots
And the system of bots developed by DEXTools allows traders to benefit without the need to monitor the market constantly.
Exploring and creating liquidity pools
The Liquidity Pool Explorer allows not only to explore liquidity pools and track liquidity movements but also to create pools on DEXes.
Receiving accurate price alerts
DEXTools aggregates relevant on-chain data to generate accurate signals about the asset's current price changes and make correct trading decisions.
DEXTools can boast integrations with such leading players in the crypto market as SushiSwap, Uniswap, and PancakeSwap, among others. Uniswap Tools and Sushi Tools sections can be found in the left-hand corner. They add value to the platform and contribute to the diversity of its features.
Integrations with Uniswap and similar platforms allow DEXTools' users to stake ERC-20 and BEP-20 tokens or swap them without leaving the safe environment of the platform.
DEXTools provides its users with an opportunity to perform atomic swaps without leaving the DEXTools platform. To do so, follow the instructions:
Click on the Multiswap
Pick the crypto pair and a DEX
Connect your wallet
And that's it, you can proceed with the setup by following the step-by-step instructions.
DEXTools has its own token called DEXT. DEXTools DEXT is a multi-chain token, it exists on the Ethereum network and on Binance Smart Chain.
About DEXT token
DEXTools managed to launch app in 2020 as a public beta. At that time, 200,000,000 DEXTools DEXT tokens were created. But 50,000,000 tokens from team funds were burnt, leaving a total supply of 150,000,000 DEXTools DEXT tokens.
The current token price is $0.5, and the highest price paid was $0.9, which is almost double its current price. The DEXTools DEXT trading volume for the last 24 hours is less than $400,000, and the market cap is $47,500,000.
Recently, DEXT has migrated to a new contract address.
Almost all the decentralized markets allow you to trade DEXTools DEXT, with DEXT and stablecoins pairs available. While Uniswap boasts the highest trading volume of the token, we recommend you check live price data to make sure you pick among the best token prices.
Why do I need DEXT?
DEXTool DEX is a native utility token of the DEXTools ecosystem. It enables users to access exclusive DEXTools features.
Access to DEXT Force Ventures
By purchasing a certain amount of DEXTools DEXT, users can access the pay DEXT features and get privileged access to exclusive community initiatives such as DEXT Force Ventures (it is an investment group that assists smaller crypto projects with funding). DEXTools relies on community feedback to run and support such initiatives.
DEXTShare reward program and airdrops
Premium members (those who hold at least 100,000 DEXTools DEXT) have access to multiple benefits. They can benefit from the DEXTShare reward program by getting DEXTools DEXT tokens as rewards.
Premium users can count on additional DEXT coins, which entitles them to a share of monthly subscription tokens paid by other token holders and community members. DEXTools also pamper their supporters with frequent airdrops.
While almost all basic functionalities of the DEXTools app can be accessed for free, you can get more benefits if you purchase one of DEXTools' subscriptions.
You can get a Standard plan by paying 270 DEXT on a monthly basis or simply by holding 1,000 DEXT in your wallet.
With this plan, you get:
Access to the DEXT Force Discord channel
price notifications on email and Telegram
12 hot pairs
wallet and transaction information
For Premium users, the following benefits are offered along with those of the Standard plan:
Participation in DEXTShare reward program
15 hot pairs
faster updates and price alerts
Access to DEXTForce Ventures and other innovative features.
DEXTools not only focuses on developing all the needed tools and features for decentralized finance, but it also aims at educating the DeFi community.
DEXTools Academy is one of the most known community initiatives aimed at speeding up crypto adoption and educating the ordinary public about the crypto space and the opportunities it offers.
There, users can find information on how to launch DEXTools, and how to use it to trade directly on the platform. Also, one can find guides on all the DEXTools features and tips on how to benefit from them.
The DEXT team consists of experts in this niche with expertise in software development, engineering, and finance.
Among DEXT partners, one can find not only the DEXes integrated on the platform but also such prominent players in the market as 1inch, Ferrum Network, Elrond, Carbon, YFDAI Finance, Unicrypt, and CoinMarketCap, among others.
Conclusion
DEXTools works on exclusive solutions that will make the DeFi space more efficient, safer, and more comfortable. DEXTools offers unique solutions for teams working on DeFi platforms, individual traders, and investors. Thus, everybody can find something useful among the manifold offerings and benefit from the unique DeFi solutions.
Would you like to start investing in the most promising crypto projects? Learn how to invest with BullPerks, the fairest and most community-oriented decentralized VC and multichain launchpad!
Disclaimer. This material should not be construed as a basis for making investment decisions or as a recommendation to participate in investment transactions. Trading digital assets may involve significant risks and can result in the loss of invested capital. Therefore, you must ensure that you fully understand the risk involved, consider your level of experience, investment objectives, and seek independent financial advice if necessary.