GamesPad Is Introducing The NFT Lottery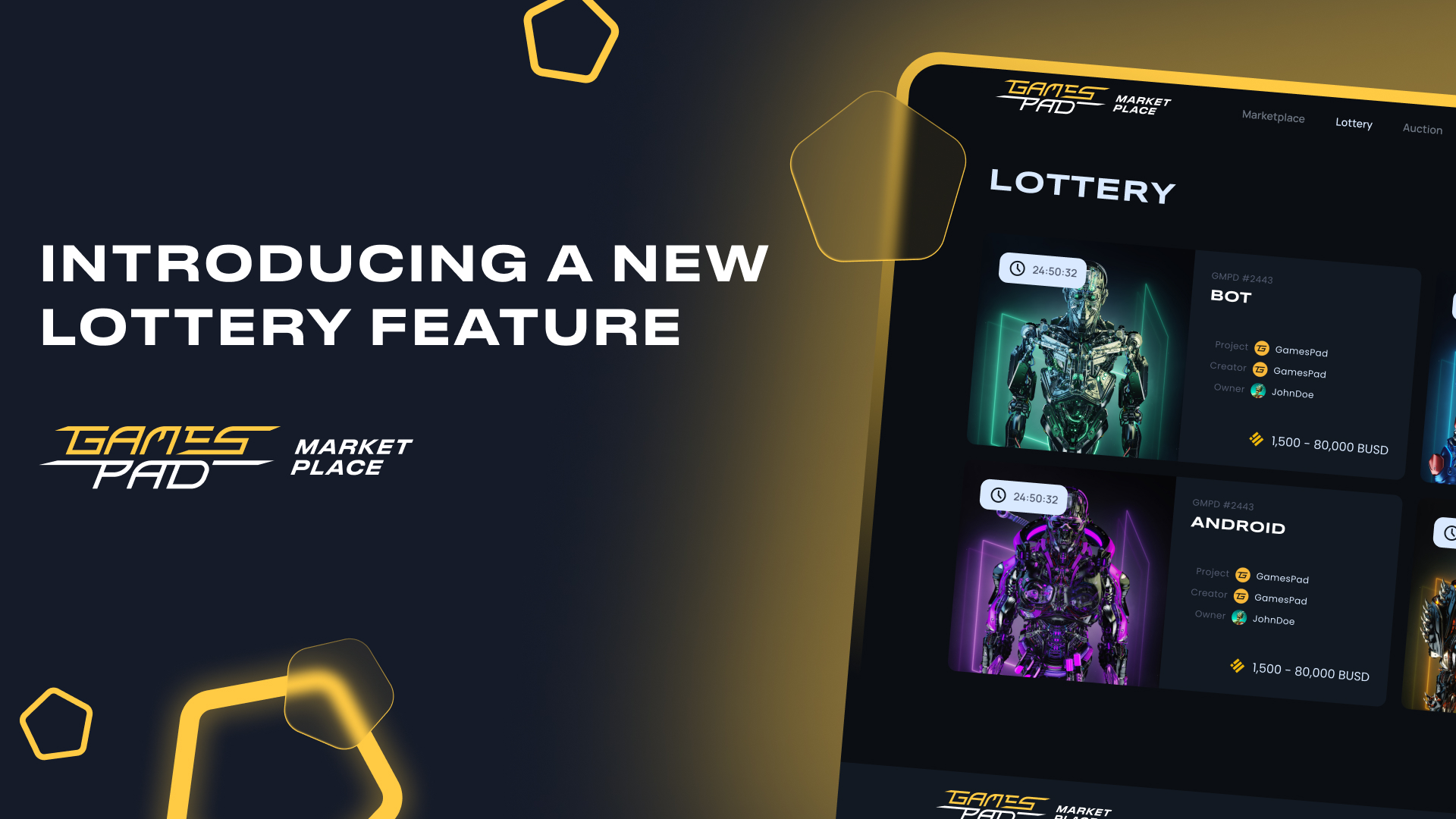 GamesPad is thrilled to announce the launch of the NFT lottery on its NFT marketplace.
The NFT industry is expected to reach an incremental growth of USD 147.24 billion between 2021 and 2026. To stay at the frontiers of NFT innovations, GamesPad is launching the NFT lottery that will allow participants to win exclusive NFTs from various art collections. This new feature is being launched collaboratively with BullPerks, a decentralized VC and multichain launchpad, offering additional benefits for token holders of both projects.
The Extra Value of the NFT Lottery for $GMPD and $BLP Holders
All users willing to participate in the lottery will have to place their bids for NFTs in either BullPerks ($BLP) or GamesPad ($GMPD).
N.B. Lotteries for $BLP and $GMPD token holders will be held separately on the GamesPad NFT marketplace. During these events, we will auction different NFT collections. NFTs associated with GamesPad tiers will not be placed for the lottery.
GamesPad will be burning a portion of $GMPD tokens swapped for NFTs after the lottery ends to reduce the token supply and potentially grow token value. Besides our main objective to provide our communities with a unique opportunity to win amazing NFTs, we also want to stabilize the volatility of both tokens and support their value growth in the long term.
About a Token Burn
Token burn is an intentional action exercised by the company to remove a specific number of tokens from circulation. It eliminates coins from the available supply, therefore raising their value and scarcity. The burned tokens are sent to the so-called "eater address," also known as a "blackhole." Afterward, they cannot be accessed by anyone and are lost forever. Destroying coins allows preventing their potential misuse when they are no longer needed.
How Does the NFT Lottery Work?
NFT lotteries will be performed on a weekly or biweekly basis (separately for $BLP and $GMPD token holders), depending on the preferences of our community. These events will have a limited time and bid restrictions (minimum and maximum bet) set by the GamesPad admin. All participants will have to place their bids for NFTs in either $GMPD or $BLP tokens (depending on whether the event is held for $BLP or $GMPD token holders) within these limitations before the lottery ends.
An NFT will be transferred to a smart contract, so all the processes are expected to be as transparent as possible. After the end of the lottery, a smart contract will randomly choose a lucky winner. The user whose bet is closest to the winning number (randomly generated number) receives NFT.
Our team believes that this initiative will help both GamesPad and BullPerks grow in the long term, offering an exciting experience and rewards for our community. Stay tuned for more news and product updates from GamesPad. We will not stop here and plan to add way more features to our products, as well as establish new big partnerships. Our GameFi, NFT, and Metaverse project will gradually scale into a huge ecosystem aimed to cover all needs of our portfolio projects and our community.
About GamesPad
GamesPad is the world's first holistic gaming, NFT, and Metaverse ecosystem aimed to incubate the most impactful crypto gaming projects. It is a one-stop shop for everything GameFi, Metaverse, and NFT that brings together a gaming incubator, game-specific multichain launchpad, decentralized venture capital, NFT aggregator and marketplace, an in-house game studio, and much more. GamesPad is the culmination of years of expertise, research, and passion for propelling blockchain gaming to the mainstream.