How to Invest In GameFi?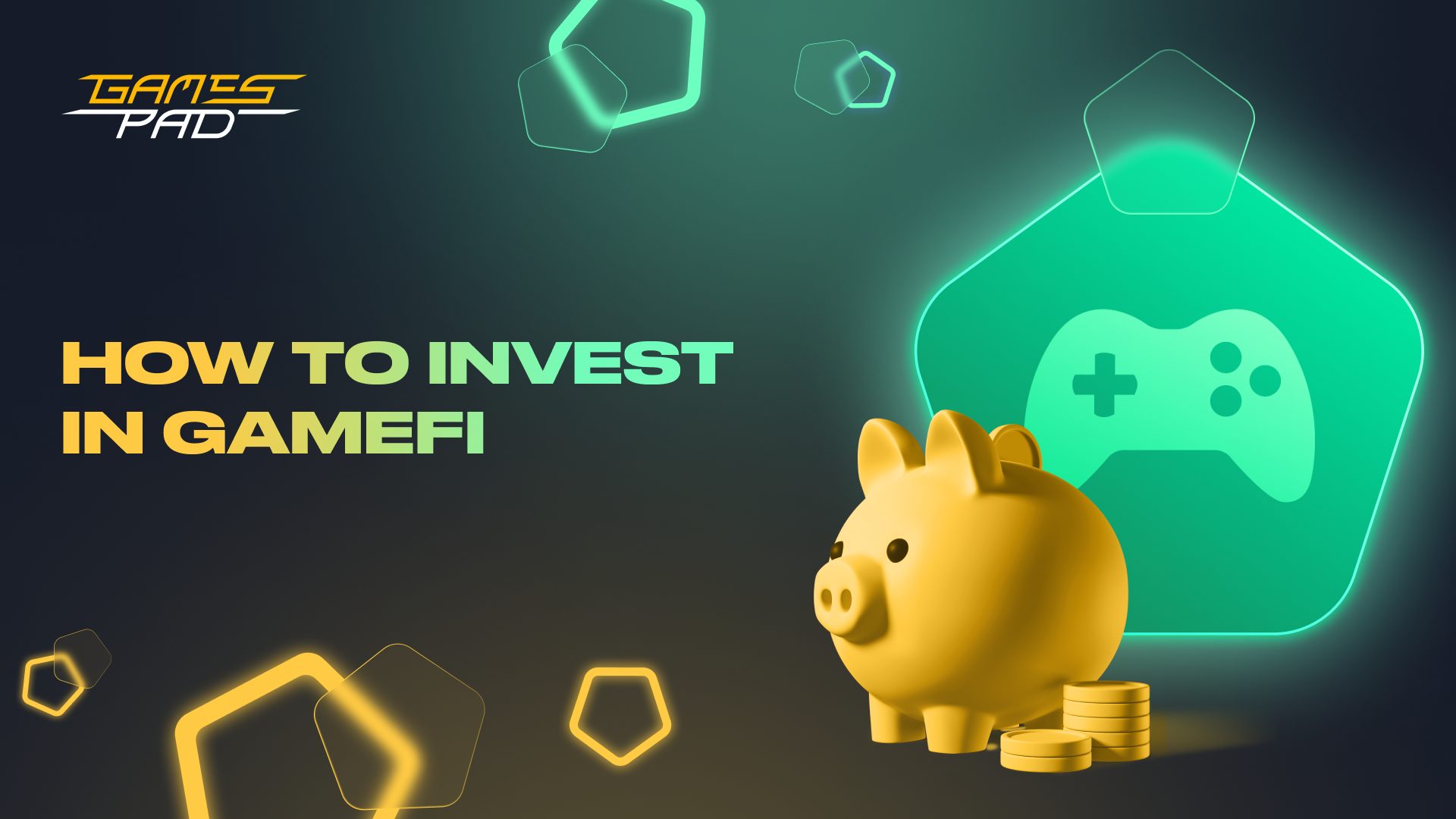 The integration of the gaming industry and finance gave birth to GameFi, which has evolved into one of the hottest trends in the crypto industry. The idea behind GameFi is to offer financial incentives for players in exchange for playing games.
While games alone are entertaining enough to convince millions of players worldwide to spend hours in a virtual space, their integration with finance is ground-breaking. That is because they not only allow players to enjoy their time by playing their favorite games, but also offer them the option to make money in the process.
This simple concept describes the foundation of GameFi, which took the crypto world by storm in 2021. For perspective, GameFi's transactions increased by as much as 2,934% during the course of 2021, while some projects like Axie Infinity exploded in popularity, delivering unprecedented returns for investors.
It is evident that GameFi offers huge investment opportunities for everyone. However, it might be a bit confusing for non-crypto natives to find the investment strategy that best suits them. That is why we created this blog to explain top strategies for investing in GameFi.
Why Is GameFi a Favorable Investment Option?
In the current crypto climate, GameFi is among the most trending topics largely due to its unparalleled success. The industry, despite being new, has amassed billions in market capitalization. The majority of GameFi tokens have also appreciated significantly over the past year, becoming the best performers of the recent bull market.
Despite its promising performance, it is worth noting that GameFi is entirely related to gaming. On the other hand, decentralized finance (DeFi) encompasses a more comprehensive set of financial instruments that use the power of blockchain technology to remove the need for intermediaries and eventually overtake traditional banks.
This gives DeFi an edge over GameFi, particularly in monetary terms. For instance, the top five DeFi Dapps had a total value locked (TVL) of $130 billion by December 2021, while the top 5 games only had $14 billion. Likewise, DeFi exceeds GameFi by a wide margin in terms of transactions.
However, GameFi is dominating in terms of users and popularity, even outperforming DeFi. Blockchain games currently make up 52.4% of all Dapp user activity while DeFi accounts for 34.74%, according to a recent report from DappRadar, suggesting that GameFi is trying to catch up with DeFi.
All in all, the meteoric rise of GameFi has generated huge profits for early investors. However, since this industry is still in its infancy, there are more opportunities yet to be unearthed. Therefore, it makes perfect sense to consider investing in GameFi.
What Is GameFi?
GameFi — a portmanteau of "game" and "finance" — is an umbrella term for blockchain-based gaming applications that offer economic incentives to players. GameFi consists of games built on a blockchain, thus it is open, decentralized, trustless, and permissionless, similar to DeFi.
In general, the GameFi concept involves games that allow players to earn rewards in the form of crypto assets for playing games, otherwise known as play-to-earn games. In such games, non-fungible tokens (NFTs) are used to represent in-game items like avatars, lands, costumes, weapons, and more.
Players can acquire NFTs by completing tasks, engaging in online competition, passing certain game levels or difficulties, or simply purchasing them. Since NFTs are blockchain-based tokens, they can be removed from games and exchanged for cash or other crypto assets on marketplaces.
Players vs. investors: who can earn more?
In GameFi, both players and investors have the opportunity to earn money. Players can receive in-game assets and NFTs by completing tasks, passing certain game levels, and engaging in online competition. They can then exchange these assets and NFTs for other crypto assets or fiat currencies.
On the other hand, investors can buy the native token of a GameFi project or its NFTs and wait for them to appreciate in value. They can also participate in IDO of GameFi projects and get a chance to purchase its tokens at a large discount.
It would largely depend on market conditions and a number of other factors as to which of these cohorts earns more. However, the important thing is that both players and investors have the opportunity to make money in GameFi.
Top Strategies to Invest in GameFi
GameFi offers a myriad of money-making opportunities for everyone involved. From simple strategies like buying the native token of a GameFi project to more complex methods like trading and staking those tokens, there are a number of options one can choose. Read on to learn more about top strategies for investing in GameFi.
1. Buy Gaming NFTs
NFTs are an essential part of GameFi as they are used to represent unique assets, characters, and other in-game items that can be purchased or traded. NFTs are also important in creating a virtual gaming environment with provable ownership, offering GameFi players digital exclusivity.
GameFi projects usually support the implementation of NFTs. They utilize NFTs to represent various in-game products, including characters, consumables, and other tradeable items. A game can also use NFTs to represent unique characters or avatars.
Since NFTs can be traded across NFT marketplaces, they have become a popular source of income in the world of GameFi. There is also a chance that players come across a rare in-game NFT, which is typically worth more. For instance, some rare Axies have traded even for millions.
It is worth noting that some GameFi games require players to purchase or acquire some NFTs in order to start playing. Axie Infinity, for example, requires players to purchase at least three NFTs (Axies) to be able to participate in battles and earn rewards.
Based on the demand for a GameFi project, the value of its NFTs can change. Therefore, one way to invest in a promising GameFi project is to purchase its gaming NFTs. If the game turns out to be a success, the value of its NFTs would appreciate, bringing investors significant returns.
2. Trade or hold GameFi tokens
GameFi tokens are cryptocurrencies that power play-to-earn video games. These tokens are based on a blockchain and can be used as the currency to buy and sell in-game items, characters, NFTs, and other entertainment content on a GameFi platform.
Based on the economic model of a GameFi project, these tokens have different levels of importance. In some games, users need to purchase and hold a certain amount of tokens in order to be able to start playing. In others, users might need these tokens to purchase NFTs or other in-game items like avatars that can be essential for a game.
Similar to other cryptocurrencies, popular GameFi tokens are usually available on centralized exchanges like Binance and Coinbase. However, to purchase lesser-known GameFi tokens users would need to use decentralized exchanges (DEXes) like Uniswap.
It is worth noting that tokens of a GameFi project could significantly appreciate in value as the game gains traction. Therefore, purchasing tokens of promising GameFi projects is another way to invest in GameFi. This can be especially a good investment since many GameFi tokens have a huge potential for growth.
3. Stake your GameFi NFTs and tokens
In crypto, staking refers to the process of locking crypto assets with the expectation to earn rewards. Staking is a win-win for everyone involved. Users can earn rewards by staking their digital assets that they want to hold while projects can offer staking services to gather liquidation and grow their operations.
Staking can be considered as another form of investment in GameFi. Users can stake their GameFi tokens or NFTs that they don't plan to sell and enjoy significant rewards. Staking rewards are usually paid out in the form of the coin itself.
More and more crypto exchanges and platforms offer staking services on various GameFi tokens with varying APY rates. Binance and other popular CEXes allow users to stake major GameFi tokens like AXS. An increasing number of DeFi lending projects also offer staking services for GameFi tokens and NFTs. And there is always the option to stake the coins of a GameFi project on its own platform.
4. Participate in IDO of GameFi projects
An Initial DEX Offering (IDO) is a crypto crowdfunding technique that enables blockchain-based startups to raise funds through their newly introduced native tokens. IDO is superior to Initial Coin Offering (ICO) in many ways, particularly since the method is becoming more regulated in a bid to minimize exit scams and rug pulls.
To enter an IDO, all you need is a launchpad where the IDO is taking place and some crypto assets. However, it is imperative to choose a reliable launchpad that performs rigorous due diligence on all projects before listing them. One such launchpad is BullPerks, which has offered many profitable deals.
For instance, the IDO of World of Masters, a blockchain-based martial arts-themed metaverse game, took place on BullPerks and was a huge success. The deal allowed investors to purchase WOFM tokens at a rate of $0.011 per token. The coin more than doubled in value on the day of its IDO deal, reaching an ATH of $0.028.
Conclusion
The booming GameFi market offers a myriad of money-making opportunities for prospective investors. From straightforward strategies like buying the native token of a GameFi project to more complicated methods like trading and staking those tokens, there are different ways to invest in GameFi.
However, it might be hard to find a reputable place that offers you exposure to GameFi projects. This is where GamesPad comes into play. GamesPad is the ultimate gaming, NFT, and metaverse ecosystem that allows you to invest in various play-to-earn, move-to-earn, and other Do-It-To-Earn projects. You can get started with GamesPad here.
Disclaimer. This material should not be construed as a basis for making investment decisions or as a recommendation to participate in investment transactions. Trading digital assets may involve significant risks and can result in the loss of invested capital. Therefore, you must ensure that you fully understand the risk involved, consider your level of experience, investment objectives, and seek independent financial advice if necessary.