Recap: AMA with GamesPad Co-Founders (August 2023)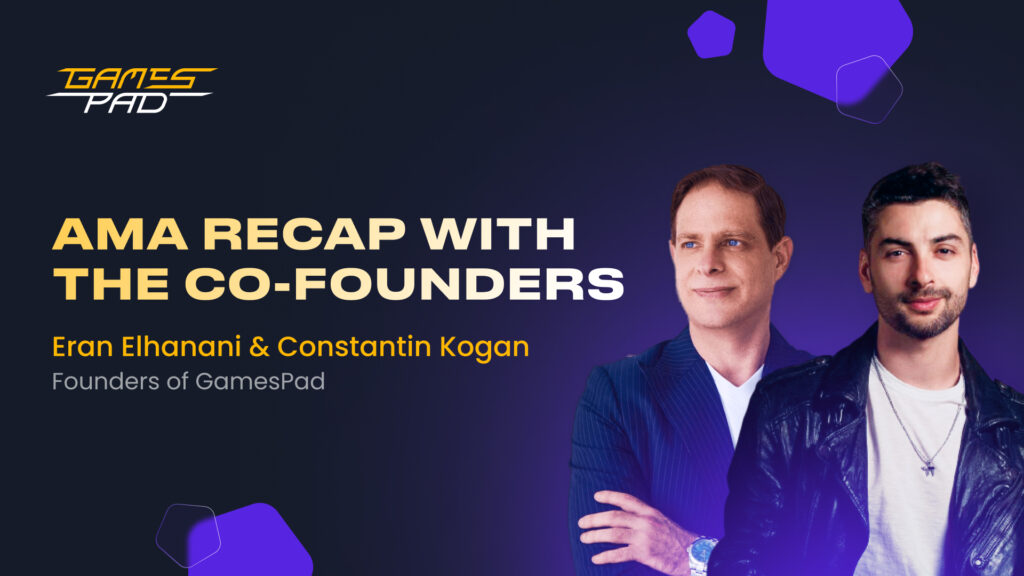 Get a snapshot of the recent GamesPad internal AMA, where Co-Founders Eran Elhanani and Constantin Kogan engaged with the community. They provided insights into platform updates, strategy adjustments, and addressed user questions. From token swapping to network integration, UI/UX enhancements, and the future of Elseverse, the recap delves into key highlights from this enlightening conversation. In case you missed the live session, don't worry. Check out the complete AMA recap below!
GamesPad Admin:
This group has been muted. If you find yourself unable to post, this is only temporary as we will be opening the group during the live session and finally after the AMA, in other words, you aren't banned from the group, it is only muted for our internal AMA.
Hello everyone and welcome to the GamesPad internal AMA session.
Eran Elhanani:
Hi everyone, thanks for joining us. Constantin will start with some updates
Constantin Kogan
Hi Everyone, excited to start with some updates.
1. Our team has implemented a novel feature since our previous Ask Me Anything (AMA) session. Users can now conveniently swap and bridge tokens within our launchpad. The majority of tokens from our portfolio projects are available right from day 1. This newfound capability enables you to seamlessly exchange your vested tokens directly through our dApps, finding the optimal route for your transactions. Swap 400+ coins and tokens across 15 networks without leaving the platform. https://app.gamespad.io/swap-bridge
2. In addition to our ongoing efforts to enhance our platform, we've been diligently working on integrating new networks. While we can't disclose specific projects currently in progress, a glance at your address book will hint at the diverse range of potential networks we are poised to support and launch projects within.
3. Continuous refinement of our UI/UX remains at the core of our application development strategy. Numerous subtle enhancements have been applied across all our products, although these might not all be explicitly enumerated within this AMA. If you've been a dedicated user of our ecosystem, you're likely to appreciate the finer details, such as the elimination of extra approvals for pool-related transactions and the intuitive, side-by-side comparison between the locker and staking pool within the dashboard.
4. As you may be aware, Paxos has terminated its partnership with Binance concerning the BUSD stablecoin. While BUSD redemptions are slated to continue until at least February 2024, new token minting has been suspended due to order from the New York Department of Financial Services and an ongoing SEC lawsuit. To ensure the robustness of our platform moving forward, we have introduced support for payments in USDT BEP20. Moreover, deliberations are underway regarding the potential inclusion of support for USDC BEP20, and there is a possibility of transitioning to these stablecoins in the future.
5. We are working hard to partner with the best artists and brands. Preparing for amazing collabs with top celebrities. This might take time due to complicated legal/compliance nuances but we are very positive on these developments.
6. Our studio Mompozt we will attend the first on-site fair, the Big Festival in Brazil, the largest fair in Latin America. So if someone here from Brazil looking for collabs – let us know
I'll let @EranEl add few words
Eran Elhanani:
Thanks Constantin. Hi guys. So as Constantin mentioned we are constantly building and launching new tools and looking for more token use-cases. We have some additional ideas which you will see coming in the near and not so near future.
We are also expanding the scope of the Launchpad not to be just gaming, metaverse and NFT and adding music, AI and more subjects in order to bring more deals
I also wanted to address our incubation ElseVerse which many are asking about.
So they have made substantial progress on the tech side and now shifting focus onto the business side to find more projects to collaborate with, more users and clients, more revenue streams and so on. So while you might not see immediate things then plenty is brewing on the back end.
It's not the right market to launch but we are seeing a revival of interest in the space both from retail/businesses as well as funds and users so once market improves we believe it will be a much better time to launch
We keep building in the background and meeting with funds, projects, founders and speak in conferences and podcasts and keep building the brand and awareness
We also have a strong pipeline of IDOs and will start announcing some in the next week so hold tight.
And now let's open the chat for questions, feedback and comments. Thanks
GamesPad Admin:
Please respect our co-founders and note that any questions irrelevant to the AMA will be deleted. In case of repeating the irrelevant questions during the AMA the users will be muted for a day on repeat offense. I will now be unmuting the channel momentarily.
Chat is now unmuted.
Marian Oprescu
Hello first of all. I think we need deals. We understand the market is like it is but we would slowly increase. We have most of us I guess upgraded tiers here especially since the token tiers came in effect (congratulations for this)
Constantin Kogan:
We have a good pipeline. Projects are waiting for a more favorable time to list.
Shark
Please provide an update on the GamesPad roadmap; we're eagerly anticipating the release of an in-house game.
Eran Elhanani:
Thanks for the question. We will be updating road maps. Obviously with markets being as they are we made some adjustments with the roadmap. Games were put a little on hold and focus is new tools that will generate more income for the project and offer more use cases for token holders.
Constantin Kogan:
The roadmap was updated recently.
We are thrilled to announce the successful completion of the design phase for Elseverse demo, leveraging the cutting-edge capabilities of Unreal Engine 5. Our talented development team, committed to innovation and excellence, has now shifted focus towards the intricate work of backend development. With a roadmap that includes not only the implementation of a seamless multiplayer experience but also the integration of cryptocurrency, we are working diligently to push the boundaries of what's possible in our project. Our collaboration and dedication to these endeavors underscore our commitment to delivering an unparalleled experience to our audience.Several games will be directly integrated into the world.
Виктор Cas:
Will any action be taken to hold the price down? Will there be new listings?
Eran Elhanani:
To hold the price down? Why would we want that? We don't control the market and price. And if anything we would prefer it going up for our token holders.
Dmitro:
Are there any intentions to have additional utilities? Like it should be truly valuable. You can strengthen your ties with blue chip NFTs etc.
Eran Elhanani:
Yes, as mentioned we're looking to add more tools and more token use cases
Виктор Cas:
Will liquidity be frozen in the future?
Eran Elhanani:
Liquidity is locked
Facebook[Meta]:
Do you want to bring new projects signed with the new 24h policy?
Eran Elhanani:
Only if they're exceptional but actually with our more cautious refund policies we have won a few new projects. Funds, projects and founders respect us for being more fair to both sides and using caution before doing refunds and this is and will be paying off.
Facebook[Meta]:
Thank you for the answer. But we need at least 1 deal in 2 months. If not, we are encouraging situations of big price dumps because of investors unlocking their tokens without penalty and selling.
Eran Elhanani:
As I said we will be announcing new projects from next week so hang tight and it's coming.
Facebook[Meta]:
Cool.
Shyaan:
I think GamesPad should contribute to the community's well-being. You could fully utilize the 24-hour policy, allowing for the launch of meme tokens or any good tokens that don't need to be more strict. If they achieve substantial gains like 10x, we'll be content; otherwise, we'll go for refunds. And everyone is happy.
Eran Elhanani:
Projects are not happy when you do refunds. You can easily destroy them after working on stuff for 1+ years. Other launchpads pulled the trigger too fast and had many refunds and it will come back to haunt them in my opinion and I already see it
Constantin Kogan:
We are not promoting 10x gains within 24-hours. Refunds are hurting good projects and unfortunately this is being completely disregarded by many players in the market. Our approach is to find a balance between protecting community and making sure project has ability to grow long term successfully
Shyaan:
Well we understand your approach is for a longer run. But in this market you should consider a different approach. You can see what competitors are doing. If you would love to go for projects well being it's fine but believe me no one would care about it in bull run.
Constantin Kogan:
Well, we do care regardless of the markets.
Eran Elhanani:
We are not yet in bull run and that approach is already paying off with some projects preferring us over the other launchpads due to them doing too many refunds and their policies
Shyaan:
I partially agree; considering the long term and holding the position in industry seems like a valid strategy. Thank you for your genuine reply. @Constkogan @EranEl
Pro CM #ADA:
Is there any IDO this month? I am pretty excited as a new tier holder in GamesPad.
Eran Elhanani:
We are finalizing a few so can't confirm if it's before the end of month or early September but we have a few coming up which will be announced. And yes, we will be announcing new IDOs coming up already next week and we hope you will agree they have great potential.
Shark:
In that case are you growing your in house game team network? I believe sitting still & waiting for the market isn't a good option.
Eran Elhanani:
We are increasing our research team and business development team and focusing on development of tools and more business relationships and revenues for the project. We still have the gaming studios arm but we're not increasing it in the current market.
Виктор Cas:
As far as I know, the liquidity blocking period will soon pass. Will it be re-blocked and by how much?
Eran Elhanani:
Yes, we constantly renew and extend.
Ok guys, love the engagement here but we don't have much time so let's get last questions
Constantin Kogan:
Appreciate your questions guys
Mihai Iulica:
Take a look at Banksters and Gourney they look to have a strong team
Eran Elhanani:
Thanks for recommendations
Ok guys, thanks for being here with us and have a great weekend!
GamesPad Admin:
Thank you everyone for joining us today! Thank you Eran and Constantin for your answers and sharing great news!
Would you like to start investing in the most impactful crypto gaming, NFT and metaverse projects with GamesPad? Learn how in this comprehensive tutorial!
Disclaimer. This material should not be construed as a basis for making investment decisions or as a recommendation to participate in investment transactions. Trading digital assets may involve significant risks and can result in the loss of invested capital. Therefore, you must ensure that you fully understand the risk involved, consider your level of experience, investment objectives, and seek independent financial advice if necessary.