The Most Expensive NFTs Right Now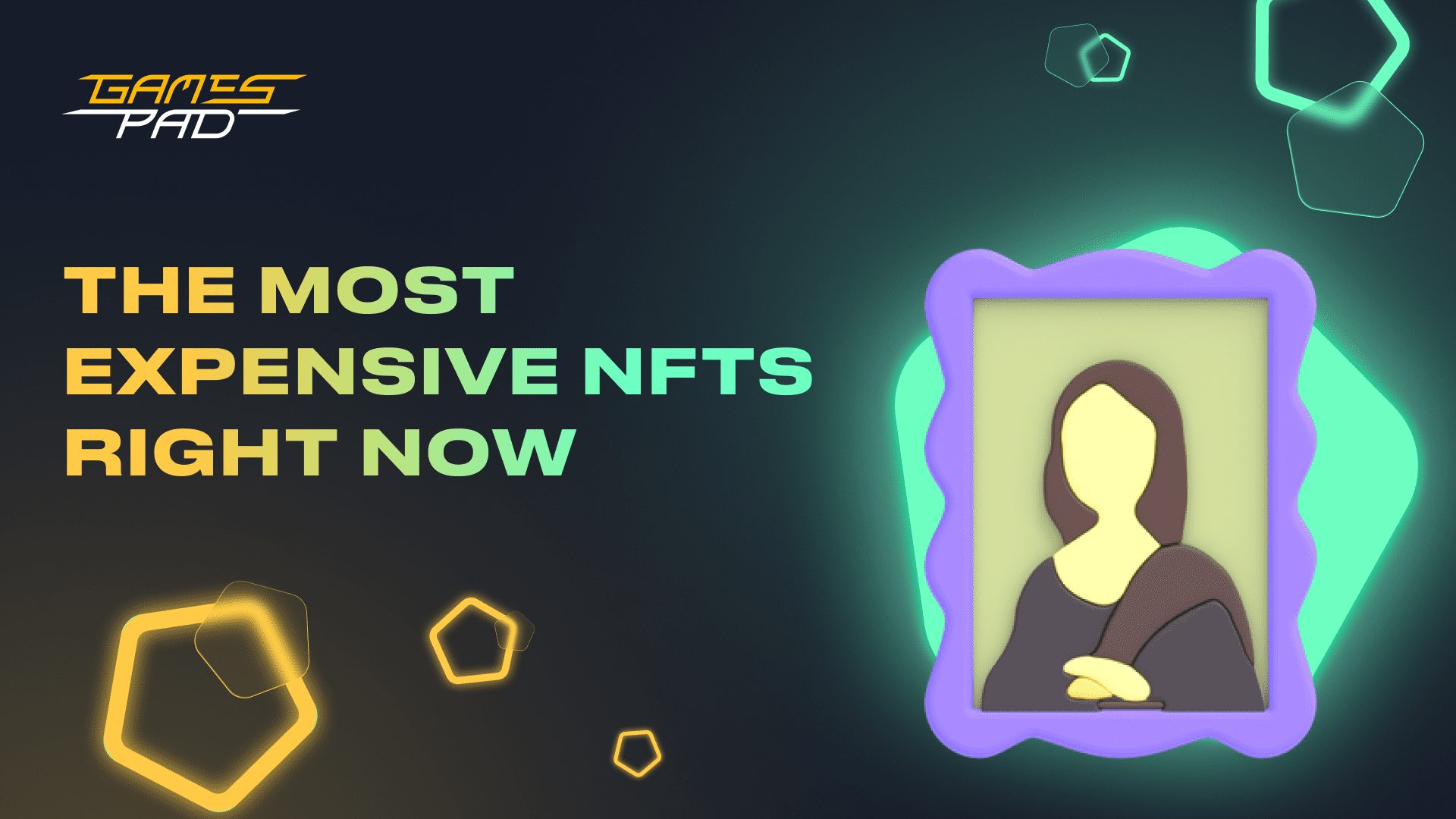 2021 was a year marked by insanely high NFT prices and exploding markets for non-fungible tokens (NFTs), metaverse, and GameFi. From Beeple's record-shattering digital artwork to the launch of the Bored Ape Yacht Club collection that later became a leading Web3 project, NFTs dominated the generative art market last year.
In the meantime, some NFTs managed to attract head-spinning bids from investors. To record some of the historic milestones, we've compiled a list of the most expensive NFT art pieces ever sold, most of which have brought in tens of millions of dollars in sales.
Shocking NFT Prices
The market for NFTs started to pick up steam in early 2021, breaking through into the mainstream and disrupting the art world and industries beyond it. Trading in NFTs hit $17.6 billion last year, increasing by a whopping 21,000% from 2020′s total of $82 million.
With celebrities and major companies launching their own NFT collections, these digital assets entered mainstream consciousness in a big way. By the end of 2021, more than 2.5 million crypto wallets belonged to people holding or trading NFTs, up from just 89,000 a year earlier. The number of buyers rose to 2.3 million from 75,000.
The surge in demand and excitement around NFTs further contributed to skyrocketing NFT prices. NFTs of collages, tweets, and even digital rocks were trading for millions of dollars, with people making a fortune simply by minting an NFT early.
How NFT Prices Are Determined?
Essentially, what gives an NFT value is its ability to verify the authenticity of an asset, either digital or physical. This makes these assets unique and one of a kind, making it possible to prove ownership of digital assets. Aside from this, three main factors mostly impact the NFT price mechanism:
1. Popularity
It is no rocket science that the more an NFT collection grows in popularity, the more its floor price, which is the lowest amount of money you will have to spend to buy an NFT from a collection, will appreciate. One metric to calculate the popularity of an NFT collection is looking at its trading volume.
For instance, major NFT marketplace OpenSea lists the top collections over the past 24 hours in terms of volume on its main page. These collections are arguably the most popular ones currently, and thus they are usually the most expensive ones.
2. Rarity
Generally, not all NFTs of a collection are equal. Based on different features and attributes, different NFTs of one collection fetch different bids. This is basically because of the rarity of each NFT. There are some tools that can help users determine the rarity of an NFT.
3. Utility
A utility NFT is a non-fungible token with applications beyond the representation of a unique digital asset. Usually, utility NFTs refer to those non-fungible tokens that offer their holders privileges, rewards, or rights that they wouldn't have found normally.
The price of an NFT can also vary based on its utility. For instance, users might find it reasonable to pay a couple of thousand dollars to get their hand on an NFT that offers them access to exclusive clubs, products, and even an upcoming virtual world (like a metaverse).
A Brief History of NFTs
The first emergence of NFTs dates back to 2012 and 2013, when so-called "colored coins' ' were first issued on the Bitcoin blockchain. Colored coins are BTC coins with a mark on them that specifies what they may be used for. These digital assets are considered the first form of NFTs.
Colored Coins uncovered the possibilities of being able to issue and prove asset ownership, but since the Bitcoin network was not able to support these features, an alternative method of exchange was created. Counterparty, an open-source peer-to-peer financial platform, was built for the BTC blockchain.
Subsequently, in early 2015, Spells of Genesis and Counterparty inked a partnership to create the first blockchain-based mobile game. In-game assets were available on Counterparty for trading. In 2016, Counterparty saw another team-up with the major trading card game Force of Will and successfully launched their cards on the Counterparty platform.
In 2017, with the growing popularity of Ethereum, the first NFTs were launched on the Ethereum blockchain. In July of that year, Cryptopunks, a collection of 10,000 24×24 pixel art images, with each being 100% unique, launched on Ethereum. Cryptopunks burst in popularity and led to the creation of a marketplace where people can buy and sell them.
In October 2017, another old NFT project on Ethereum was launched. Called Cryptokitties, the blockchain-based game allowed users to trade virtual cats, some of which were going for up to $100k. As the popularity of the game grew, some of the virtual cats with higher rarity scores were even traded for millions of dollars, which made headlines across major outlets.
Nevertheless, the adoption and growth of NFTs continued, with 2021 marking the best year in the history of NFTs. Dozens of NFT collections, including Bored Ape Yacht Club, flooded the market last year, with different blockchains adding support for NFTs.
TOP 5 Most Expensive NFTs
Here are the top five most expensive NFTs that ever sold.
1. The Merge
The Merge, created by renowned digital artist Pak, was a single artwork that was composed of a collection of 'masses' that users could purchase. This fractionalized NFT was made up of 312,686 pieces that were distributed to 28,983 buyers, generating almost $92 million to become the most expensive NFT sold to date.
The Merge is exceptional in how it works. Unlike many other NFT projects, the visuals and properties of the NFT are constantly changing. Every Merge NFT (token) has a mass property that can grow bigger as you acquire more mass. That can happen by buying another Merge token and merging them, with the new mass being the sum of the two tokens' mass.
2. The First 5000 Days
Digital artist Mike "Beeple" Winkelmann's NFT titled "Everydays: The First 5000 Days," which was sold at Christie's first-ever digital art auction in March of 2021, fetched a whopping $69 million to become the most expensive digital art at the time. The NFT was purchased by crypto investor Vignesh Sundaresan, also known as MetaKovan, who is also the founder of the Metapurse NFT project.
3. Clock
Clock is another NFT created by Pak and Julian Assange. The NFT was purchased by AssangeDAO, a collection of people pooling money to buy the NFT in support of Assange, for around $53 million. It works similarly to a clock, counting the number of days from the imprisonment of WikiLeaks founder Assange.
4. Human One
Human One is another innovative NFT artwork by Beeple that sold for almost $29 million. The NFT is a life-generative, dynamic sculpture that has an astronaut wandering across changing environments and was bought by Ryan Zurrer. The NFT is also accompanied by a physical work from the artist.
5. CryptoPunk #5822
Since their creation in 2017, CryptoPunks has been one of the most valuable NFT collections. However, based on rarity, some of this collection's NFTs have attracted much higher bids. CryptoPunk #5822 currently ranks the most expensive CryptoPunk and was sold for around $24 million earlier this year.
GamesPad's NFT Lottery
In a bid to stay at the frontiers of NFT innovations, GamesPad, in collaboration with BullPerks, has recently launched the NFT lottery. The feature allows participants to win exclusive NFTs from various art collections by betting a specific amount of $BLP and $GMPD tokens, depending on whether the event is held for BullPerks or GamesPad.
Conclusion
The NFT space has burst in popularity lately. The year 2021 can be characterized by insanely high NFT prices and exploding markets for digital art. The year saw NFTs attracting head-spinning bids from investors. CryptoPunks dominated the list, possibly being the most hyped project of all time. Furthermore, digital artists Pak and Beeple made history with their NFT projects.
FAQ
What is the most expensive NFT ever sold?
The single most expensive NFT ever sold is Beeple's "Everydays: The First 5000 Days."
How much is the most expensive NFT?
The single most expensive NFT, Beeple's "Everydays: The First 5000 Days," sold for around $70 million.
What is the most expensive NFT in the world?
The single most expensive NFT in the world is Beeple's "Everydays: The First 5000 Days."
Would you like to start investing in the most impactful crypto gaming, NFT and metaverse projects with GamesPad? Learn how in this comprehensive tutorial!
Disclaimer. This material should not be construed as a basis for making investment decisions or as a recommendation to participate in investment transactions. Trading digital assets may involve significant risks and can result in the loss of invested capital. Therefore, you must ensure that you fully understand the risk involved, consider your level of experience, investment objectives, and seek independent financial advice if necessary.