Top 10 Play-To-Earn Games To Invest In 2022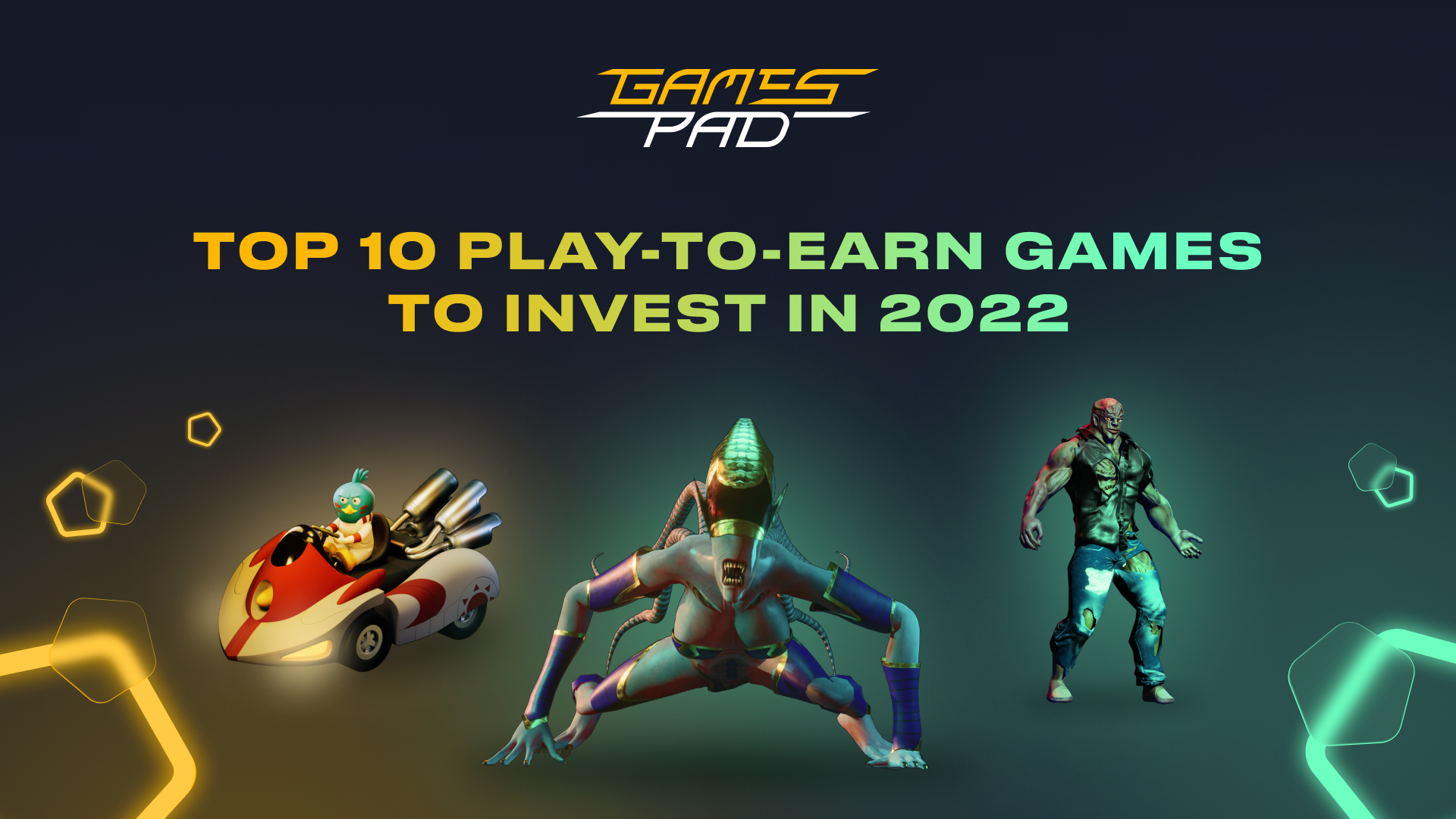 Learn more about play-to-earn games and get to know the most promising crypto games of 2022. 
What are play-to-earn crypto games? 
In short, play-to-earn games reward players with in-game currency when they complete activities such as battling, breeding their in-game characters, or performing quests. Later, the in-game currency can be traded for NFTs or cryptocurrencies.
Play-to-earn games come with many incentives, so the players keep playing them endlessly. Besides its monetary rewards, P2E games have also gained popularity for the NFTs generated in the game, which in some cases, gained value outside the game and made some extra money for the players. 
How to invest in play-to-earn games?
There are two ways to invest in play-to-earn games: in their early-stages development phase and as a player. 
To invest in a play-to-earn game project in its development phase, you can participate in the Initial Game Offering of a particular project and buy a sum of its tokens. IGOs take place in launchpads like GamesPad, where you can join the most profitable projects through a secure platform.
As a player, you'll be investing in the game when you buy tokens and assets to start playing, or if it's a free-to-play game, you'll be helping to increase the token value by moving it in the game. 
Top 10 play-to-earn games 
1. Cyberium
Cyberium offers a next-level competitive player-versus-player experience with a futuristic pool simulator. Players must show their pool skills to earn ESPN and can later trade it for other valuable cryptocurrencies. 
2. Taunt Battleworld
Taunt Battleworld is an auto-battler fighting game built with Unity on the Ethereum network. By winning battles and earning the Gods' favor, users are rewarded with the TAUNT token. 
3. Outer Ring
Set in a sci-fi scenario, Outer Ring is an MMO role-playing game where players must choose races and factions to run the galaxy. It offers a metaverse-like virtual reality, where users can play and attend exclusive events. 
4. MetaFigther
Inspired by arcade classics such as Street Fighter, this skill-based play-to-earn fighting game is all about fun and nostalgia. Its token can be used to buy in-game assets or can be traded on crypto exchanges. 
5. Penguin Karts
Penguin Karts is a blockchain-based battle-racing 3D multiplayer game. Like the classic Mario Kart, it combines the best elements of arcade-style kart racing, mobile gaming, and play-to-earn NFT dynamics. 
6. Plant VS Undead
In this game, players must control crops against enemy creatures to generate Light Energy, the in-game currency. Later, LE can be traded for PVU (Plant vs. Undead Token), which can be exchanged for other cryptocurrencies. 
7. Gods Unchained
This is a trading cards type of game, in which players must battle with a deck of cards to beat other players. Users can buy card packs, earn voting power, and trade it on crypto exchanges with the GODS token. 
8. Axie Infinity
Axie Infinity was the first Ethereum-based play-to-earn and NFT game. This Pokemon-inspired game allows users to evolve, breed, and battle Axies to earn AXS and SLP tokens. Axies are NFTs that can also be sold and traded. 
9. Gala Games
Gala Games is a gaming platform that offers a diverse portfolio of crypto games, including play-to-earn ones. The game's reward is the GALA token, and it can be used to complete transactions in any game on the platform. 
10. Illuvium
Illuvium is an open-world RPG game where users must win battles, complete quests, and upgrade ranks to win ILV tokens. The game also presents the NFT Illuvial, a creature that users can use in battles.  
How to invest through GamesPad?
GamesPad is a crypto gaming, NFT, and metaverse ecosystem committed to supporting and incubating game entrepreneurs, offering them mentorship, advisory, and network connections in the gaming and crypto space. It brings together a game-specific launchpad, NFT marketplace, game incubator, and many other features. It also allows retail buyers to invest in these gaming projects at their early development stages. Learn more about how to invest in P2E games through the GamesPad launchpad in this comprehensive tutorial.
1. Create a wallet
2. Register and complete KYC (Know-Your-Customer procedure) 
3. Activate your tier on GamesPad: 
3.1. Buy $GMPD tokens
3.2. Purchase the GamesPad NFT
3.3. Lock $GMPD tokens and NFTs on the platform
4. Join the IDO deal on GamesPad! 
Read more here! 
Takeaway
Without a doubt, play-to-earn games are at the center stage of the cryptocurrency world right now. GamesPad is continuously looking for the best emerging P2E games so our community can always have the opportunity to invest in the most promising and profitable projects. 
Would you like to start investing in the most impactful crypto gaming, NFT and Metaverse projects with GamesPad? You can start doing it tight away!
Disclaimer. This material should not be construed as a basis for making investment decisions or as a recommendation to participate in investment transactions. Trading digital assets may involve significant risks and can result in the loss of invested capital. Therefore, you must ensure that you fully understand the risk involved, consider your level of experience, investment objectives, and seek independent financial advice if necessary.
Subscribe to be the first to know when we launch
By clicking «‎Subscribe»‎ button, you agreeing to the Gamespad Privacy Policy.