What Is Scam In Crypto Gaming And How to Protect Yourself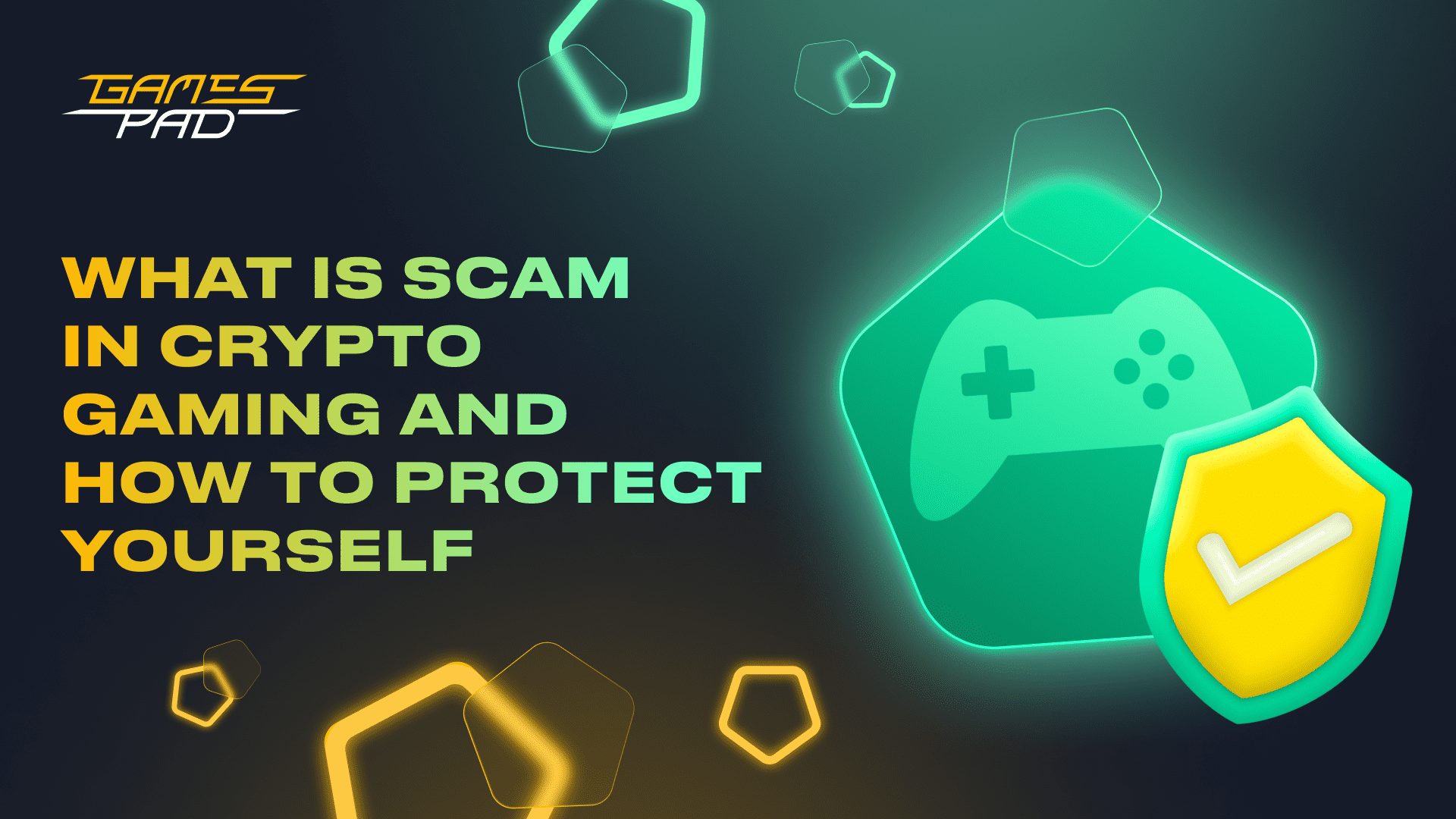 Everything old is new again, so where is money — there are scams. Nothing has changed since the emergence of blockchain and cryptocurrencies. 
Blockchain technology can potentially transform many things, including the financial system, government, retail, etc. But what about scams? Unfortunately, it is no surprise that fraudsters started luring people into crypto game scams as soon as this new technology was born. The same is happening with crypto gaming. As more blockchain-based games appear on the market, scammers become more and more sophisticated. Today, we will talk about gaming scams, how to spot a game scam and Metaverse NFT scam, and how to protect yourself. Let's dig in!
Traditional Game Industry Scams. How Do They Work?
As you well know, scams are everywhere. And it's definitely worth understanding how scams work in traditional games before starting games on the blockchain.
In 2021, according to some statistics, about 3 million people in the US alone played various games on their mobile devices. These games include shooting, racing, collecting coins, and more.
Unfortunately, game developers and creators are far from the only ones excited by these numbers. The scammers have also become thrilled with the growing popularity of mobile games and have taken advantage of this in their fraudulent schemes.
Such schemes include stealing passwords and username combinations to get to users' personal and credit card information. In addition, scammers can easily infect gamers' devices with malicious code, use fake cheat codes, power-ups and upgrades, and use various phishing scam techniques, which are very common today.
When Scammers Start Their Work?
The skyrocketing GameFi sector has gained unbelievable popularity recently. Even though the crypto market can be considered bearish right now, the price of many GameFi tokens continues to grow rapidly due to their NFT component. Not surprisingly, many crypto investors are interested in making money on the resale of in-game items and NFT characters rather than focusing on improving game mechanics.
The scammers also go out of their way to take advantage of this. That is why, when choosing a GameFi project, it is essential to consider the marketing and technological components: how actively the project is being promoted and what benefits the project token provides to its participants.
Also, be extra wary of the promises of GameFi projects – don't forget that there are a lot of scams in this space. Unfortunately, if something seems too good to be true, it probably is.
Where Can You Lose Your Money?
Unfortunately, when dealing with crypto and GameFi projects, there is always a chance of losing your money, even if the project is trustworthy. So let's look at a few more possible ways to lose funds:
Buying NFTs
The skyrocketing NFT market undoubtedly poses unique opportunities for brands, artists, celebrities, and NFT enthusiasts worldwide. However, as with most emerging opportunities, there are associated threats that everyone should be aware of — Metaverse NFT scam.
Due to the decentralized nature of the NFT industry, many have become vulnerable to fraudulent activities and gaming scams. Unfortunately, few can resist them as fraudsters are getting more sophisticated. Every day someone posts about losing their most treasured NFTs. In 2022, collectors and crypto enthusiasts worldwide must be more careful than ever, especially with so-called pump-and-dump schemes.
Pump-and-dump happens when a group of people buys up a bunch of tokens or NFTs and artificially drives demand up. After that, scammers cash out and leave victims behind with worthless assets.
Investing in GameFi tokens
All the crypto assets are high-risk investments, including GameFi tokens. Many consider investing in individual blockchain games risky due to the presumption that most fail. Furthermore, even the most exciting GameFi tokens like Axie Infinity are now in a deep bear market, and crypto enthusiasts should know how to deal with it.
And, of course, we should always remember scams related to GameFi tokens. For example, one of the biggest GameFi scandals was last year's fall when the Squid crypto token (based on the Squid Game Netflix tv series) collapsed to almost zero after rising to about $3,000. Such a scam is called a rug pull. It happens when there are large token holders who can freely trade it, and the market for that token is not deep or highly liquid. As a result, investors lost about $3.4 million.
Participating in weird airdrops and IDO
An airdrop is a distribution of crypto tokens, or NFTs, sent to wallet addresses for free as a promotion. They are generally used to add additional value or to draw attention to a GameFi project. However, airdrops themselves can have malicious coding in them. Moreover, scammers know how to create projects with fake NFT collections and useless tokens. That's why you need to be extremely cautious regarding NFT Airdrops. The same can be said about IDOs. To avoid NFT airdrop scams and weird IDOs, always double-check the website to which you connect your wallet. If you are not 100% sure of it, give it a miss.
Remember that even a verified Twitter account with a blue check mark and thousands of followers means nothing. Scammers can easily change the '@' handle of an unused verified account they've purchased or hacked and taken over. So never believe someone who DMs you or tags you on Twitter or Telegram.
Spot a Crypto Scam With the DYOR Process
It might be hard to ignore what billionaires, experts, and media personalities say. However, you should always do your own research before investing in any GameFi project, and this process should be done thoroughly. Don't accept all the information you find online at its face value. If an offer or an investment opportunity sounds too good to be true, it might be a crypto scam. Furthermore, experts and analysts in the field can also be wrong. Keep in mind that cryptocurrency is a highly-volatile asset that might lead to financial losses.
Check how active the community is and whether the participants are real.
Analyze the team behind the project. All the needed information should be easily found online.
Check the smart contract. The best way to view a token's smart contract is through Etherscan. It is a block explorer and analytics platform built on Ethereum.
Check where the token is listed. If it is listed only on some unknown exchanges, it might be a crypto scam.
Check the project's roadmap, Whitepaper, Pitch Deck, and other important documents.
Deal ONLY with trustworthy launchpads like GamesPad.
Find out more in the GamesPad DYOR Guide.
Conclusion
It is definitely possible to avoid crypto gaming scams even in 2022 when so many of them exist. You should be very keen on details and never go out of hand. Financial investments and dealing with crypto might be tricky and risky, but it doesn't mean cryptocurrency scams should be in this equation. Don't act rashly; remember that if something sounds too good to be true, it probably is. Play it safe and use only trustworthy crypto gaming launchpads like GamesPad!
Would you like to start investing in the most impactful crypto gaming, NFT and Metaverse projects with GamesPad? Learn how in this comprehensive tutorial!
Disclaimer. This material should not be considered as a basis for making investment decisions or as a recommendation to participate in investment transactions. Trading digital assets may involve significant risks and can result in the loss of invested capital. Therefore, you must ensure that you fully understand the risk involved, consider your level of experience, investment objectives, and seek independent financial advice if necessary.