How Important Are NFTs And Blockchain In The Metaverse?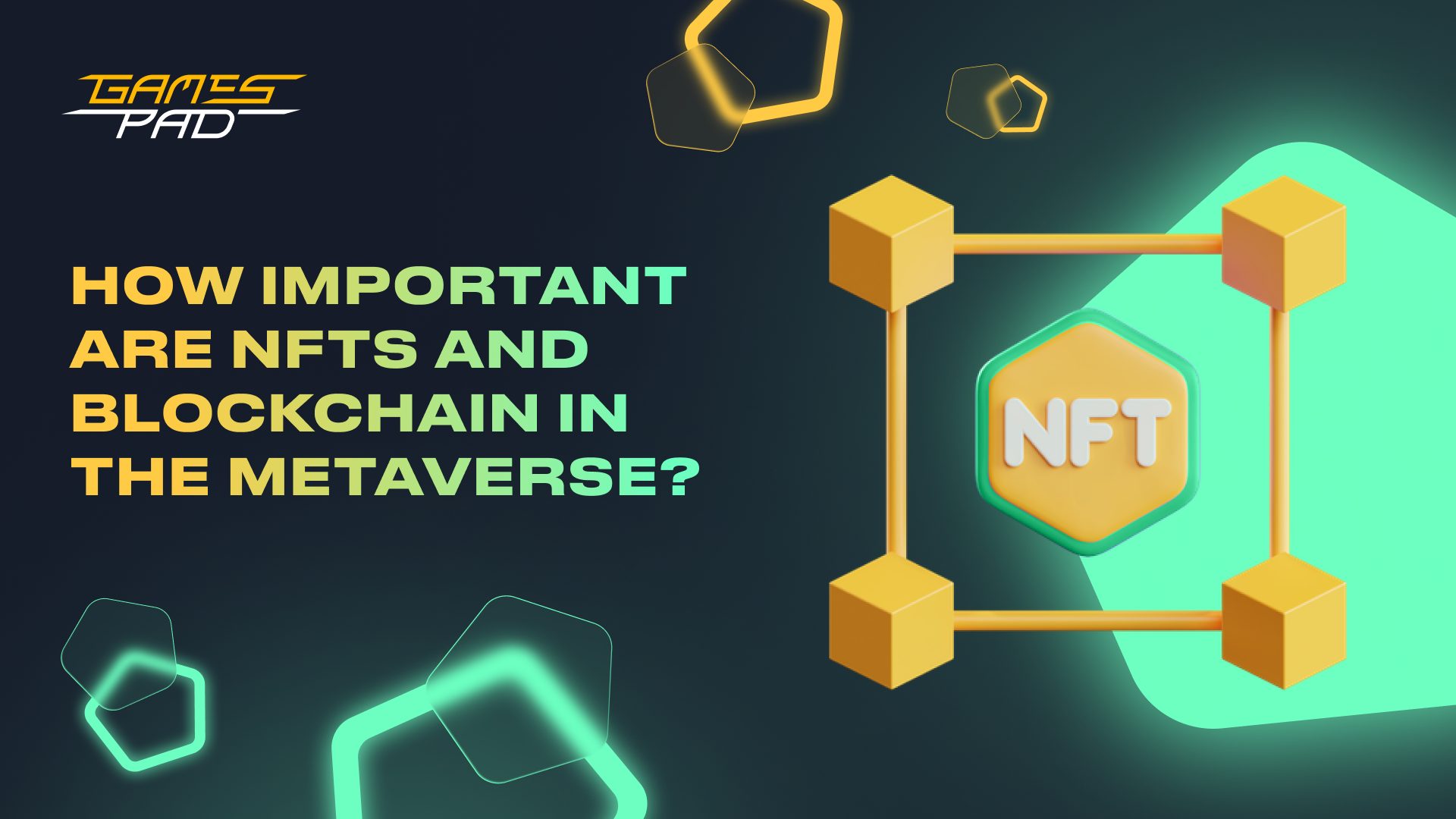 Over the past two years, we have seen different news and emerging technology trends have focused on a term unknown to all of us until recently. And this term is Metaverse. It has ceased to be something incomprehensible and distant, belonging to science fiction, and is becoming our reality and our future. The Metaverse has begun to affect many areas of our lives and sectors such as design, architecture, fashion, entertainment, retail, real estate, etc.
And this trend is undoubtedly joined by two others that are also making a lot of buzz in 2022: non-fungible tokens (NFTs) and blockchain technology. Indeed they are familiar to you; but today, let's take a closer look at the role of NFTs and blockchain in the Metaverse. How do these concepts relate to each other? What can we expect in the future? Where might this union of NFT, Metaverse, and blockchain lead us?
Metaverses are three-dimensional digital worlds that provide companies and users with limitless opportunities to transfer assets and services from the real world to the virtual one. They provide an open and fair economy through the use of blockchain.
NFTs are a bridge to the Metaverse; they help shape personal, social, and social experiences in this exciting new space.
There are some critical questions that crypto enthusiasts, traders, and investors ask themselves when discussing merging NFTs with the Metaverse. These questions are the following: Can NFTs access the Metaverse? Will they be responsible for determining the future of the Metaverse? What role do blockchain technologies play here?
NFT as a digital asset:
NFT can be called an entirely new modality of digital assets, and the Metaverses already offer unique and unlimited trading opportunities. Thus, a strong connection between NFTs and the Metaverse is a very logical extension since NFTs can help to gain exclusive access to enter a specific place in the Metaverse.
How is NFT linked blockchain?
The union of non-fungible tokens (NFTs), Metaverse, and blockchain can offer users a fair and transparent economy, new exciting identity experiences, access control, the opportunity to obtain full ownership of virtual spaces in the Metaverse through NFTs, and so much more. The possibilities are almost endless, and we still have much to discover. In the meantime, check out unique GamesPad NFTs, choose your NFT fighter and become a member of the GamesPad investment club.
Is NFT stored in blockchain?
An NFT stored on-chain means that all NFT data, including the image and metadata, is available on a blockchain Off-chain stored NFTs, on the other hand, means that some or all of the NFTs are stored outside of the blockchain. Because users can verify every aspect of the NFT, on-chain storage is preferable.
Still in its early stages of development, the Metaverse provides numerous social and financial opportunities through the use of NFTs and blockchain technology, as well as new ways to play, interact, collect, earn and transact.
GamesPad, a holistic ecosystem for everything Metaverse, NFT, and gaming-related, makes the Metaverse only closer to us. We are constantly providing our investment community with new Metaverse and NFT projects, always looking for innovative, profitable, and legitimate initiatives to launch.
With GamesPad, you can invest in Metaverse projects early on through Initial DEX Offerings (IDO) and Initial NFT Offerings (INO), in which you invest tokens in a project and possibly receive some allocation in return. By choosing GamesPad, you can safely invest in the Metaverse on the fairest terms.
FAQ
Non-fungible tokens (NFTs) are unique and not interchangeable digital assets based on blockchain technology. They are basically the representation of assets on a blockchain network. For example, users can create unique digital art pieces and convert them into NFTs. As for the Metaverse, it is a concept that includes a virtual world where users can purchase these NFTs.
After Meta (formerly Facebook) had invested heavily in the Metaverse, this new concept became extremely popular among potential investors and crypto enthusiasts worldwide. Even though there are many exciting NFT and Metaverse projects out there, investing might still carry a high amount of volatility and risks like any other emerging technology.
Whether or not to invest in the Metaverse and buy NFTs depends significantly on your risk tolerance and understanding of these new technologies. At GamesPad, we care about our users and always ask them to do their own research. Check out our GamesPad DYOR Guide and learn how to analyze IDO projects.
No, Metaverse and NFT are not the same things. NFT (non-fungible token) is a unique virtual token that does not have an identical alternative. Metaverse is a 3D virtual world shared among multiple users where they work, socialize, play, and can buy NFTs.
Learn how to start investing in the most impactful crypto gaming, NFT and Metaverse projects with GamesPad by checking out our comprehensive tutorial!
Disclaimer. This material should not be construed as a basis for making investment decisions or as a recommendation to participate in investment transactions. Trading digital assets may involve significant risks and can result in the loss of invested capital. Therefore, you must ensure that you fully understand the risk involved, consider your level of experience, investment objectives, and seek independent financial advice if necessary.