How Rare Is My NFT? A Guide to Check it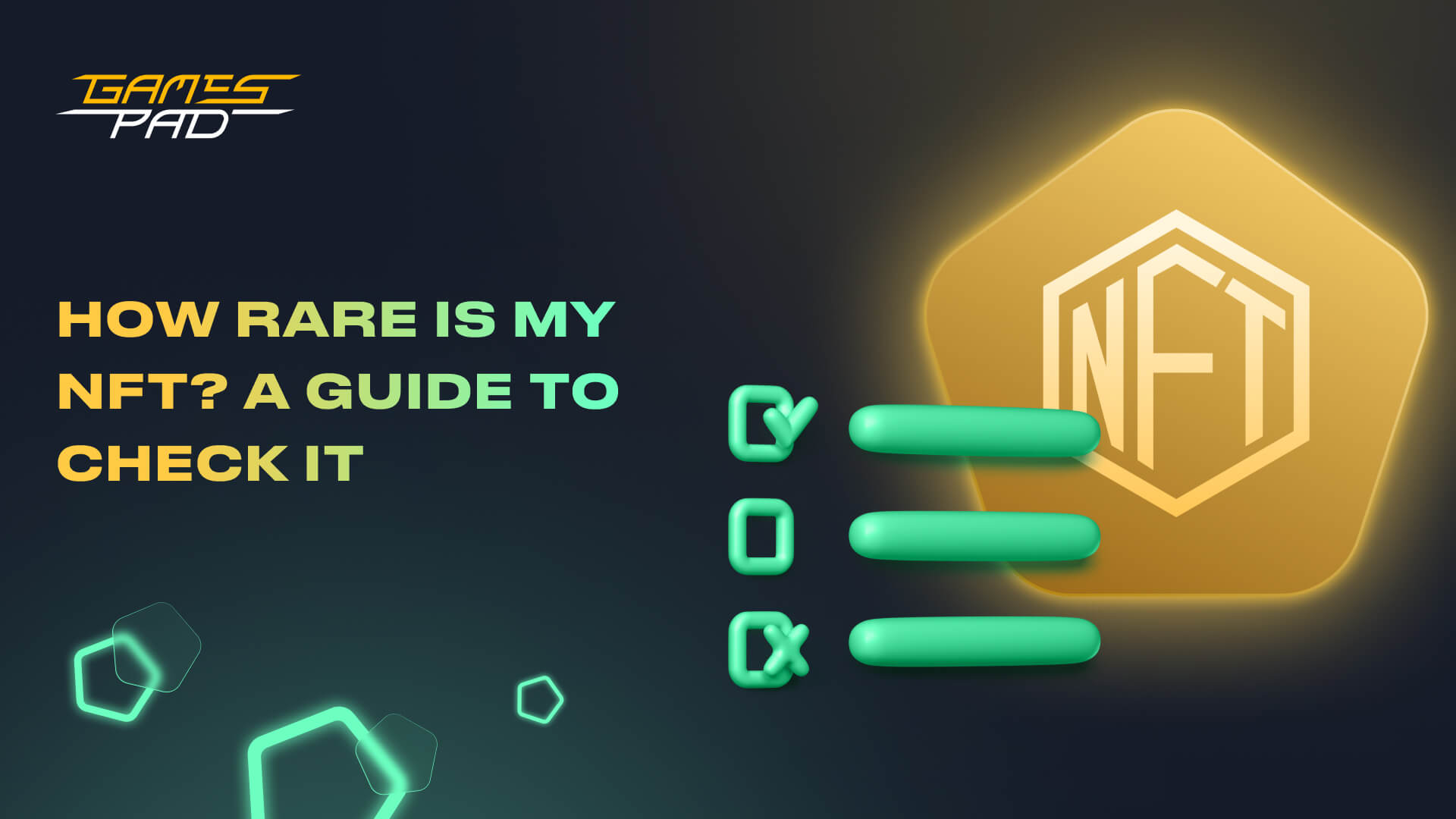 The exponential and incredible growth of the NFT market and NFT space is piqued by the interest of even those unfamiliar with blockchain technology and the most skeptical investors worldwide.
With a huge number of NFT projects (both with real value and those that have become popular only because of the hype), investors and NFT enthusiasts are doing everything possible to determine the next best non-fungible asset.
Rarity score is everything when it comes to getting the most bang for your buck in any collectible market. Therefore, it is imperative to keep track of trending and rare NFT and only invest in the best and rare NFT projects.
In this article, we will talk more about the concept of the best NFT rarity score and what makes NFT valuable, look at some of the best NFT Rarity Tools currently available, and learn how to calculate NFT rarity and rarity scores of your NFTs. So, let's begin!
How Is NFT Rarity Calculated?
The value and rarity score of non-fungible tokens (NFTs) are different things. So even if you have hundreds or thousands of really nice unique NFTs, they might cost almost nothing and not have any real value.
For passionate NFT collectors and NFT enthusiasts, it might not be a problem. Some people collect NFTs to support a favorite artist, for example. However, those looking to make money by investing in NFTs should think twice and consider calculating the best NFT rarity.
It's no secret that a decrease in supply leads to increased demand. And this leads to a rise in the price of a non-fungible asset. However, the cost of supply is far from the only factor contributing to the rarity scores of NFTs.
To calculate this rarity and not make a mistake with the investment choice, you can use various methods. Various parameters, such as rarity based on the rarest trait, will be taken into account by statistical evaluation of all NFT traits or by calculating the average rarity.
Therefore, the rarity score is used to calculate the rarity score of NFTs. Calculating the rarity does not have to be done manually; one of the NFT rarity tools can be used. It won't take long; everything can be done in a few minutes.
The rarity score emphasizes rare individual traits while including the overall trait rarity in the calculation. This is by far the best-known way to calculate the rarity of an NFT. You can use a unique formula:
Trait value rarity score = 1 / Number of items with that trait value / Total number of items in the NFT collection.
How Does Rarity Affect NFT Prices?
The rarity of an NFT refers to how rare a particular collectible or NFT is based on specific traits. These traits include the physical characteristics of the NFT, such as colour, design, costume, or arbitrary influences, such as the reputation or profile of the artist or the NFT project as a whole.
Rarity is one of the most critical factors in NFT valuation. Therefore, the rarer the NFT, the higher its price will be. In addition, NFT assets of different rarity and exclusivity can be found in the same NFT projects.
The CryptoPunks rare NFTs collection is a good example. The two best-selling punks are very rare among collections.
Of course, not all NFT collections are as popular as CryptoPunks, and the prices with market cap are not very high.
Understanding how non-fungible tokens are traded by comparing the rarity of an NFT to other NFTs in collections helps to understand how the rarity of an NFT and exclusivity works.
What is a high rarity score for NFT?
The rarity of an NFT measures how rare an NFT is compared to the rest of the collection. Usually guided by the laws of supply and demand, rarity and market value go hand in hand.
That is why it is impossible to give an unambiguous answer about a high rarity score for NFT.
But you can compare NFTs from the same collection using a resource like rarity.tools. Let's look at Bored Ape Yacht Club, check overall rarity, check the rarity score, and see which Ape is the rarest at the moment.
Here we can also see rare traits, rare attributes and NFT rankings of different NFT collectibles.
When buying an NFT collection after they are published, you need to be sure you know its rarity. Fortunately, it is effortless to check an NFT's rarity rankings without doing any calculations using special NFT rarity tools.
Checking the NFT scores in collections is easy. You'll simply find your collection by searching for the NFT number. You can also see an extensive list of NFT traits and the features of each trait.
NFT Rarity Tools are special software programs that calculate and rank NFTs based on their rarity. We can compare them to databases where users and NFT enthusiasts can search specific NFTs to see how rare they are within their collection while also showing which factors and features contribute to their NFT rarity score.
Investing in NFTs undoubtedly comes with many risks, and every potential investor should be aware of this.
Even though the formula for calculating the rarity of NFTs is quite simple, there is no point or need to do all these calculations yourself to estimate the rarity of all desired NFTs. There are several rarity tools that are very easy to use. An NFT rarity tool can also be called an NFT portfolio tracker, or even an NFT wallet analysis tool.
Each of them can help you check the rarity of NFTs and keep up to date with changes without difficulty. Needless to say, these rarity tools should not be used as the sole criteria for buying NFTs.
Before purchasing any NFT, you should definitely do your own research, study the NFT market, the NFT history, NFT sales, rare NFTs, NFT statisticss, and find out everything about the project and NFT collection you are interested in. So let's check some of the best NFT rarity tools!
Rarity.tools, the one we have used, for example, is known as one of the most well-known and popular online platforms for checking an NFT rarity. You will definitely find all the most popular NFT projects there. The search bar is simple: you can just type the NFT's ID number and see all the details of its traits and other important information about the project, including total sales volume and average prices.
Rarity Sniper
Rarity Sniper, another excellent NFT rarity tool, also boasts an impressive collection of NFT projects across multiple blockchains. Users can also use their Discord channel and a specially crafted bot to check the rarity of the NFT they are interested in. Enter the NFT details in the bot command, and you will get an instant response showing the NFT, its rating, features and other information.
NFT Stats
NFT Stats is an easy-to-use NFT analytics tool available online. There you will find the main reviews of the NFT collections and find out their rating and sales volumes for specific periods of time.
NFTBank
NFTBank is a great portfolio management and NFT rarity tool for users who want to manage NFT ownership. You can also find ROI, activity and expenses in the presented data. This platform is perfect for those who take NFT investments seriously.
CryptoSlam
This platform is another great NFT tool for market research and analysis of non-fungible tokens. Each NFT series has a separate page describing the latest sales and minting.
CryptoSlam undoubtedly has all the parameters that can be used in an NFT tool, such as NFT sales, rarest trait, minimum price, transaction volume, number of holders and more, making it one of the best rarity sniper tools out there.
Traitsniper
Traitsniper is different from other similar tools. Here you will only find NFT collections that have just been revealed or will be revealed soon.
However, it is an excellent tool for checking important details like minimum price, royalties and project location. Here you will find both a paid version with more features and a free, more limited version.
HowRare.is
On HowRare.is, you can exclusively check Solana-built NFT collections. It is an accurate NFT rarity tracker that works like the other NFT rarity platforms, where you can quickly search the NFT collection you are interested in, enter its ID, and find out how rare it is.
The platform also lists upcoming NFT drops and information on the latest sales.
OpenSea
OpenSea is more than just an NFT rarity tool, where you can find the overall rarity and NFT drops. First, it is one of the world's largest and most popular NFT marketplaces, where you can find the upcoming NFT. Here you can easily track, analyze and browse the most popular NFT collectibles over any period.
You can also easily check what NFT collections are trending right now to make a better investment decision.
Nansen
Nansen is an excellent blockchain analytics platform to check rarity rank that also serves as a Wallet and Investment Tracker. It enriches on-chain data with lots of wallet labels. Crypto investors, traders, and NFT enthusiasts can use this exciting app to discover different opportunities, perform due diligence and defend their portfolios with its real-time dashboards and alerts.
Here you can see a scoreboard of the most profitable NFT wallets based on how much money has been made and the real-time analysis of each project's owner. This undoubtedly might lead to better asset management and future planning, making it a one-of-a-kind rarity tool on our list.
Final Thoughts
Rarity tools users and investors worldwide choose for their NFT investments depend on the blockchain they are using, what traits and characteristics they would like to assess and, ultimately, which platform suits them and their investment needs.
Since many rarity tools are entirely free and pretty easy to use, it is always better to take your time and check multiple platforms before you make an NFT investment decision. Would you like to start buying or holding NFTs? You have everything to get it started!
Would you like to start investing in the most impactful crypto gaming, NFT and metaverse projects with GamesPad? Learn how in this comprehensive tutorial!
Disclaimer. This material should not be construed as a basis for making investment decisions or as a recommendation to participate in investment transactions. Trading digital assets may involve significant risks and can result in the loss of invested capital. Therefore, you must ensure that you fully understand the risk involved, consider your level of experience, investment objectives, and seek independent financial advice if necessary.