How to Make Money With NFTs In 2023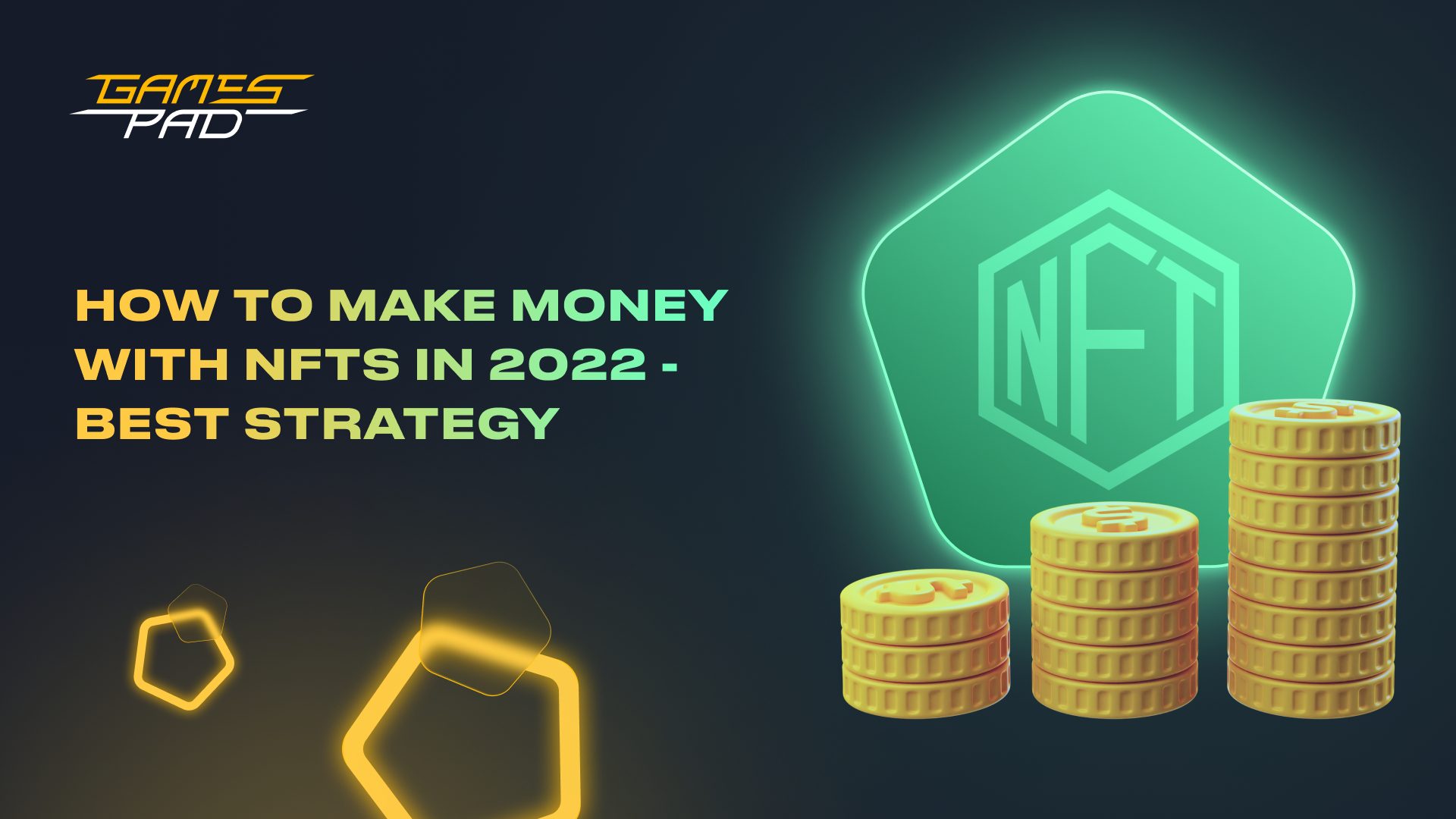 Non-fungible tokens (NFTs) have quickly proven to be a cutting-edge addition to the entire world of cryptocurrencies. NFTs make it easy to tokenize physical and digital assets, opening up a dynamic new ecosystem where market participants, investors, and crypto enthusiasts worldwide can trade pieces of art, music, in-game items, and so much more.
This article will discuss NFTs as an investment opportunity, how to make money with NFTs in 2023, what is the best way to invest in NFT, and most importantly, how to invest with GamesPad. Let's start!
What Is an NFT?
An NFT, a non-fungible token, is a unique code that represents a digital item. It could be anything digital, including images, pictures, photos, videos, music, GIFs — any content that claims to be unique. They are of great value among collectors, gamers, and art lovers, and they are bought and sold through auctions and NFT marketplaces.
What does "non-fungible" mean?
As for the word "non-fungible," it is something non-replaceable and unique that can't be replaced. For example, Bitcoin (BTC) is fungible. If you trade one Bitcoin for another Bitcoin, you get exactly the same thing. And as NFTs have unique identifying codes, they create digital scarcity and can be traded only for something completely different.
NFTs as an Investment Opportunity
Investing in non-fungible tokens (NFTs) might seem appealing and potentially profitable. However, it is wise first to gain a broad understanding of what NFTs are, how this kind of investing works, and how to choose an NFT to invest in. Nowadays, most NFT trading volume corresponds to digital art, music, and blockchain gaming items. But NFTs have also started to reshape the future of the fashion industry, sports, real estate, and so much more.
Who can invest in NFT?
Anyone can start investing in non-fungible tokens through NFT marketplaces. They provide convenient and user-friendly online portals where potential investors can view unique and valuable NFTs created by artists and other users and then buy them. NFTs can be listed at a fixed price or through an auction that allows you to bid until someone finally wins that particular NFT.
To store your NFTs, you need to create a crypto wallet. Some of the best wallets can connect to NFT marketplaces, help fund purchases, and securely store your assets.
Are NFTs just hype or here to stay?
The market capitalization of NFTs has grown tenfold from 2019 to 2020, reaching around $340 million. Rapid growth also continued in 2021 and is still going on in 2023. So is it fad and hype, or are non-fungible tokens here to stay in the long run? Of course, no one can know where the market will lead us, but it is still possible to draw some conclusions, even though the NFT sector is a bit like the Wild West.
New exciting use cases for non-fungible tokens are constantly being created. For example, if it all started with digital images and GIFs, now the industry has targeted real estate and music. People have the opportunity to purchase real estate faster, and exchanging real estate opportunities can allow more people to invest. Similarly, NFTs can allow mechanisms such as a work of art to have multiple owners, increasing its value and sales revenue.
In addition, non-fungible tokens have an interesting use case in relation to identity management. There is an opportunity to streamline processes such as carrying passports or checking digital IDs.
Another of the best benefits of non-fungible tokens is that they allow creators to connect directly with their audience. For artists, it means no need for agents or physical galleries. In the real estate world, it allows you to make small investments in large projects. NFTs can significantly simplify some traditionally complex processes, so we can conclude that they are more than just hype and here to stay.
How to Make Money With NFTs in 2023
There are short list that help you make money with NFTs:
Create and sell digital art
Trade NFTs
Play NFT Plat to Earn Games
Sell Fashion NFTs
Stake NFT
Rent NFTs
Became NFT Influencer
If you are looking for a way to earn passive income, NFTs might be a good pick. Here are some of the ways to make money with NFTs in 2023. Check them out!
Create and sell digital art. It is one of the most common ways of making money with NFTs if you're a creator or a digital artist.
Sell licensed NFT collectibles. If you're a crypto enthusiast or a collector, you can sell physical collectibles, for example, football sports cards, as digital assets.
Play NFT play-to-earn games. Such gaming projects allow players to buy, sell, trade, and exchange NFT collectibles and make profits.
Sell fashion pieces. As NFTs have also penetrated the fashion industry, it is another way to make money. If you're a fashionista or a designer, you can digitize the outfits and release them on NFT platforms.
Stake NFTs. It means users attach their non-fungible tokens to a platform or protocol. In exchange, they receive staking rewards. In this way, they can earn extra while users remain the owners of NFTs.
Rent out NFTs. There are several platforms on the market that allow users to obtain non-fungible tokens for a short duration.
Become an NFT influencer. Users can create their own brands and build a considerable following. It might give a chance to monetize products and services.
Are NFTs a good investment?
Investing in NFTs can be potentially profitable. Furthermore, it might give an investor access to exclusive bonus content, enable participation in elite communities, support your favorite artist, and so much more.
However, it is difficult to say whether it's a good investment or not. With so many high-class NFT projects now on the market, making the right choice and decision can be challenging and risky.
The best thing is to do your own research (DYOR) and find out as much as possible about a particular NFT project and its creators. After that, it can be easier to make the right decision. What is more, don't forget that you shouldn't invest more than you're able to lose.
Check out our GamesPad DYOR guide to learn how to analyze IDO projects.
Furthermore, if you want to learn more about how to sell NFTs, NFT marketplaces, a digital asset, NFT investing, you should definitely read more about blockchain technology, NFT sales, NFT exchange, where to buy most NFTs, NFT buyers, ways to invest in NFTs, digital artwork, reputable NFT marketplaces, crypto and NFT projects, NFT stocks, NFT art, NFT data, NFT generation, selling NFTs, digital tokens, and so much more.
Make Money With GamesPad
GamesPad is the next-gen holistic gaming, NFT, and Metaverse ecosystem aimed to incubate the most impactful crypto gaming projects.
As a one-stop shop for everything GameFi, Metaverse and NFTs, it brings together a gaming incubator, game-specific multichain launchpad, decentralized venture capital, NFT aggregator and marketplace, in-house game studio, and much more.
Want to start investing in the most impactful crypto gaming, NFT and Metaverse projects with GamesPad? Find out how in our comprehensive tutorial!
Disclaimer. This material should not be construed as a basis for making investment decisions or as a recommendation to participate in investment transactions. Trading digital assets may involve significant risks and can result in the loss of invested capital. Therefore, you must ensure that you fully understand the risk involved, consider your level of experience, investment objectives, and seek independent financial advice if necessary.
More articles on this topic