Top Play-to-Earn NFT Games For Android And iOS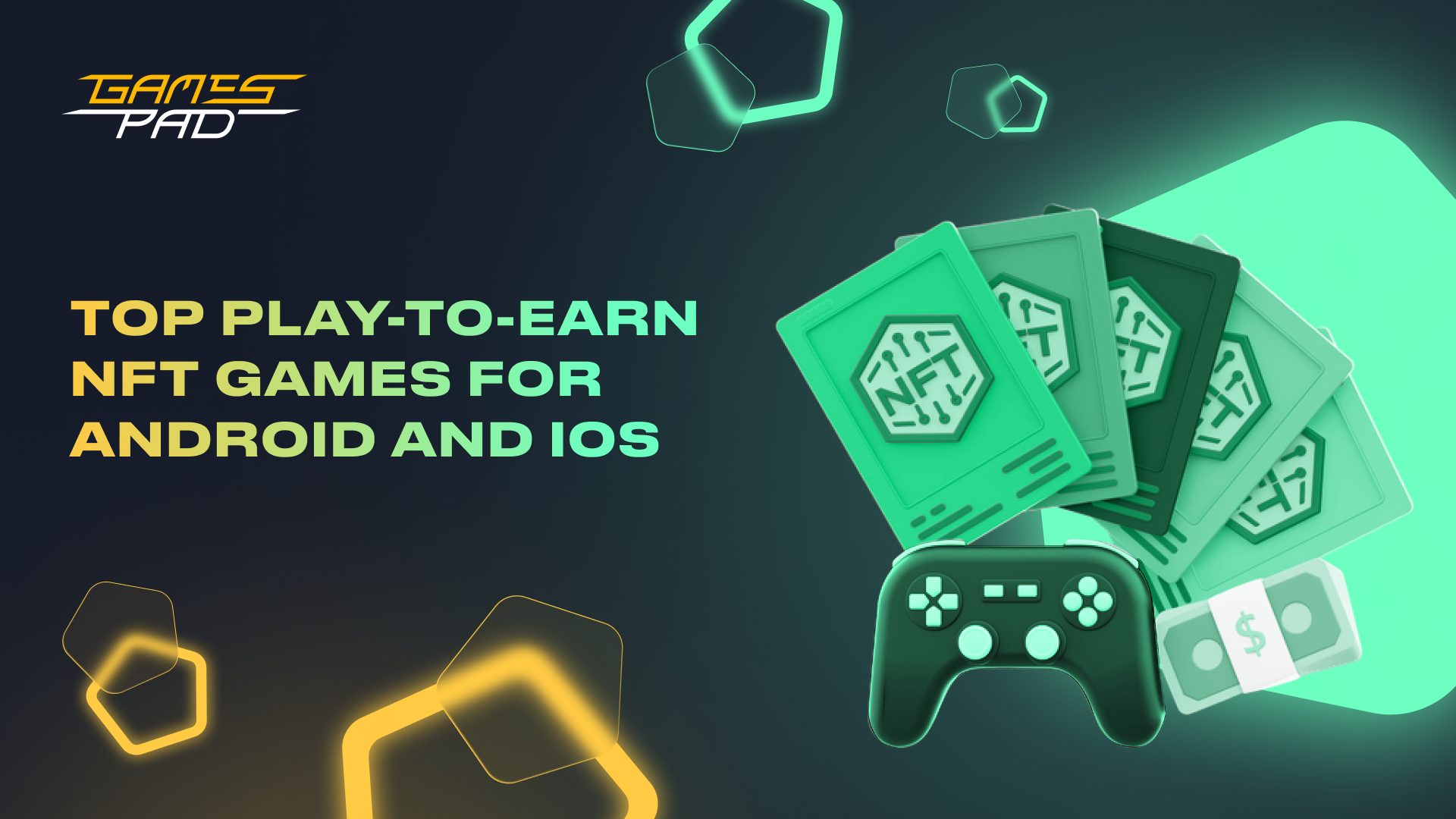 Throughout its history, games have been entertainment, something that distracts from a hard day's work. But now, a new generation of video and mobile games uses blockchain technologies like non-fungible tokens (NFTs) to reward players with cryptocurrencies.
In some countries, these "Play-to-Earn" games are already allowing gamers to make a living playing games. Along the way, various scholarship programs and academies are emerging to help players navigate this strange but exciting new world.
While some have cheered the emergence of Play-to-Earn games, claiming that they allow users to be rewarded for activities they would previously have done for free, some gamers have expressed doubt and skepticism about the unwanted intrusion of commerce into the escapist gaming world. So today, we will focus on play-to-earn mobile NFT-based games. Let's find out more about them!
What Is Play-to-Earn?
Simply put, Play-to-Earn projects are games where the player can earn rewards with real value.
While people have been making money playing video games for years through methods such as markets for in-game items, the advent of blockchain technology and NFTs have changed the game's rules.
NFTs, or Non-Fungible Tokens, are cryptographically unique tokens that can be used to prove ownership of content such as images, music, GIFs, in-game items, characters, and more. In blockchain games, they allow users to become owners of in-game items such as virtual clothing or plots of land.
Unlike conventional games, where in-game items are stored on isolated data networks and owned by the companies that created the game, NFTs allow players to own unique assets they can purchase. Moreover, once you own an NFT, you can freely sell it outside of the platform it was created on, which is not possible in regular games.
About mobile NFT games
With so many great NFT play-to-earn games out there, it is not surprising that there are also so many exciting GameFi projects for iOS and Android.
The integration of NFTs in mobile gaming allows players and crypto enthusiasts to buy exclusive in-game items and assets under their name just using the smartphone and own the right of the items purchased in all its exclusivity. These NFT-powered mobile games also allow users to earn passive income through selling assets on the open market.
Android vs. iOS NFT Games
Play-2-Earn NFT games, belonging to the rapidly increasing and trending GameFi industry, are making a significant impact globally. Letting gamers and crypto enthusiasts take control of their in-game assets creates many revenue opportunities. Such P2E games are increasing in number rapidly, and most of these are compatible with PCs and iOS and Android mobile devices. Some of these exciting gaming projects are still under development, while others have already made their alpha and beta versions available publicly.
As more creators and developers make such games available for mobile gamers who use iOS or Android, the blockchain gaming industry is skyrocketing and tapping into a whole new market with tremendous potential.
Everyone owns and uses iOS and Android smartphones regularly compared to desktop computers and laptops. Moreover, some users even own multiple mobile devices, making them a promising target audience for P2E blockchain-based games capable of engaging players for extended periods.
Some of the Best Mobile NFT Games Right Now
Axie Infinity
Axie Infinity is one of the most exciting GameFi projects that has taken the crypto world by storm. It has quickly become one of the highest-earning NFT-powered products on the entire market, which you can also download and play on your mobile device. The game is currently not available via the Google Play Store or as one of NFT games for IOS users but through other easy methods, meaning it is essential to do your own research on where you are downloading the game from. Check out our GamesPad DYOR guide to learn how to analyze IDO projects!
Visit the official Axie Infinity website, and click on the 'Play Now' button. After that, you can select the iOS or Android version, and get started.
Sorare
Sorare is an exciting blockchain-based gaming project founded in Algeria that allows players to play football, purchase, sell and manage an entire virtual football team, and earn crypto.
The players are represented as digital cards built on the Ethereum blockchain. Gamers can earn money by participating in various competitions or by building a team using football player cards. With Sorare, you can experience football like never before and bring fantasy to reality. It is really one of the top NFT android games.
Gods Unchained
Gods Unchained is a new online strategy trading card game based on the play-to-earn (P2E) model. While playing, users get high-ranking cards from other players to lead the game. The project is yet to be unveiled as an Android and iOS app, but the team behind Gods Unchained is currently working on bringing the game to mobile devices. Until then, you can freely download and install the game on your PC. To do so, you have to create an account on the Gods Unchained official website.
STEPN
STEPN is the first move-to-earn mobile NFT-based game powered by the Solana blockchain. It is a Web3 healthy lifestyle app with inbuilt Game-Fi and Social-Fi elements.
The project is built around easy daily activities – moving around. STEPN is also one of the first GameFi projects to effectively bring to life a functioning Move-to-Earn concept. By walking, jogging, or exercising, users earn in-game currency, which can be used while playing a game or cashed out. Please find out more about the Move-to-Earn concept in our article.
Splinterlands
Splinterlands is another exciting collectible card gaming project built on the Hive blockchain where users can trade, buy or sell digital assets to gain in-game rewards.
This NFT-based card game is perfect for those tired of card games requiring significant financial investments. Even though the gameplay begins with a limited number of cards, as you win more rounds, the number of cards increases.
There are two different ways to access Splinterlands on your mobile device. You can access the game by simply heading to https://m.splinterlands.io/ on your mobile web browser or downloading it on the Apple App Store and Apple Google Play Store.
Conclusion
Without any doubt, play-to-earn NFT-powered mobile games are now at the center stage of the crypto world. Therefore, GamesPad is continuously looking for the best-emerging play-to-earn (P2E) projects so our community can always have opportunities and chances to invest in the most promising and profitable GameFiprojects.
Do you want to start investing in the most impactful crypto gaming, NFT and Metaverse projects with GamesPad? Learn how in this comprehensive tutorial!
Disclaimer. This material should not be construed as a basis for making investment decisions or as a recommendation to participate in investment transactions. Trading digital assets may involve significant risks and can result in the loss of invested capital. Therefore, you must ensure that you fully understand the risk involved, consider your level of experience, investment objectives, and seek independent financial advice if necessary.
More articles on this topic