The Best Ways to Invest In Crypto Gaming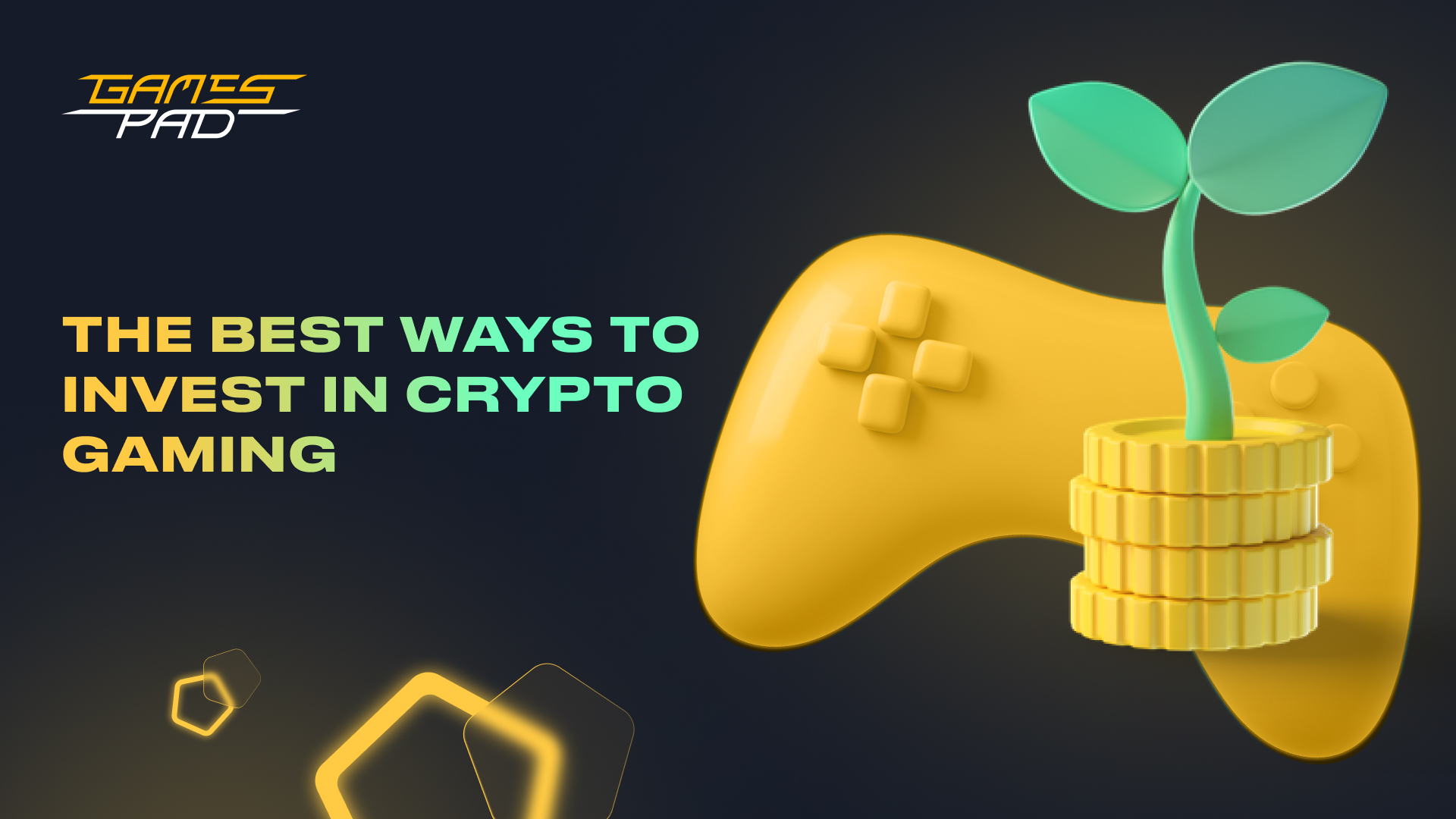 Even though we experienced a crypto winter, the GameFi gaming sector continues to thrive and reach new heights in 2023. It remains red hot in the current year. Over the past year, the number of blockchain-based games and exciting crypto-gaming projects has doubled. In Q1 of 2023, GameFi companies managed to raise over $450 million, capitalizing on the bull run of the previous year. Consequently, our interest in play-to-earn and NFT games will undoubtedly remain strong throughout 2023.
The gaming crypto niche combines two attractive industries – video games and the crypto world. Let's cover some of the best gaming crypto coins and projects, ways to invest in crypto gaming, reasons everyone should invest in gaming tokens, and how to invest with GamesPad, the next-gen holistic gaming, and the Metaverse ecosystem.
How to Make Money With Crypto Games?
Video games have evolved thanks to blockchain technologies dramatically. Now they can be used to earn good money.
While playing NFT and play-to-earn games, gamers can have true ownership over their in-game assets and earn rewards with real value. As for blockchain marketplaces, they allow users to buy and sell unique in-game digital assets and more.
What Are Gaming Crypto Coins?
A gaming coin is an in-game cryptocurrency that can be used to purchase a particular game. Gaming coins can be used to buy characters and other items in-game. You can earn cryptocurrency through fulfilling certain activities. These games can also be played with non-fungible tokens (NFTs).
How to Invest in Crypto Games?
There are many ways to try to make money with NFT-based and GameFi projects. So let's check them out!
Earning in-game tokens

Most blockchain-based games have an in-game currency and native tokens that can be swapped for other cryptocurrencies or cashed out. For example, Axie Infinity uses Smooth Love Potion ($SLP), which has two primary uses: it is the in-game currency and an item used to breed the characters.

Breeding


Blockchain-based games are more than battling, exploring, and collecting. So-called breeding, which means minting a new token to be put in circulation in the game, is another good way to earn passive income. CryptoKitties game is a good example. While playing this game, gamers can pair a male and female NFT cat character and breed them to create new characters that can be sold on NFT marketplaces.

Minting new in-game items

In some metaverse games, players can create in-game objects, wearables, and other collectibles and earn royalties from secondary sales. In other GameFi projects, players can forge new weapons and sell them on the marketplace or submit NFT collectible designs. If these designs are approved, they can be added to the game allowing artists and creators to earn royalties on secondary sales in perpetuity.

Staking tokens

Staking is another way to make money while playing blockchain-based games. Staking is locking tokens to earn rewards, which means making them available for other players to make exchanges.

Trading non-fungible tokens (NFTs)

Trading NFTs refers to purchasing and selling them. It sounds easy; however, this way of earning in blockchain gaming requires doing your own research (DYOR), patience, and even an investment up front.

Participating in tournaments and events


Some blockchain-based games feature special events and tournaments that give unique opportunities to earn rewards. For example, in some games, players have to enter a tournament and pay an entry fee, and the top player earns the pot. These games can also feature special events, where gamers can team up to fight bosses and earn special rewards.

Mining

Even though this way of earning is definitely not for everyone, it is worth mentioning. Mining a token is when hardware "mines" new tokens to be put in circulation. In GameFi, the mining phase begins at the immediate release of a new gaming project. Miners start adding the new game's native token into circulation so it can be used for the game. Mining in the crypto sphere refers to hardware solving complicated math issues to create the next block. Unfortunately, it is a pretty costly and time-consuming process. Furthermore, mining coins puts a lot of stress on the graphics processing unit.
How does crypto gaming work?
In crypto games, players can use fiat money to purchase in-game coins and tokens, as well as collect in-game items and level up their characters.
True ownership is one of the reasons why crypto games have become popular. Unlike traditional games, their crypto counterparts give players ownership of what they collect using blockchain technology. Players can own their in-game items, trade them, or sell them.
How to earn money playing games?
Earning money while playing games also attracts players. Some games have previously been criticized for using a pay-to-play model in which players must invest to get the most out of the game. Before crypto gaming, investing money only improved the player's experience. For example, they could level up faster. Cryptocurrency games do the opposite: the "play to earn" model allows people to profit from their investments with crypto gaming coins.
The Best Gaming Tokens to Buy in 2023
Crypto investors,  traders, and crypto enthusiasts worldwide looking to invest in GameFi can buy into these high-ranking blockchain gaming tokens: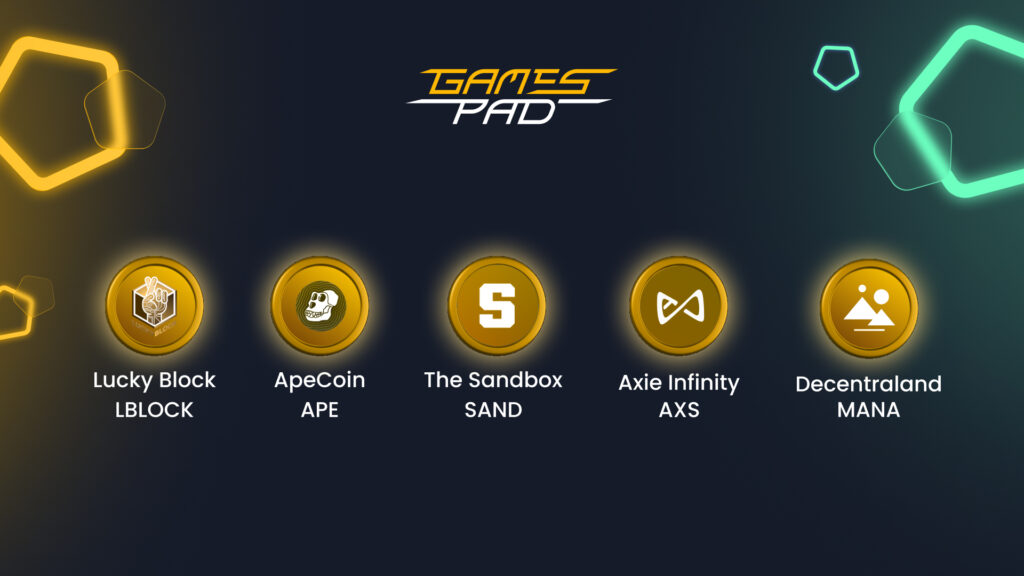 Lucky Block ($LBLOCK)
Lucky Block is a brand new GameFi project and crypto gaming asset that facilitates Lucky Block blockchain transactions, and it is considered by many as the next crypto to explode and skyrocket in 2022. It is considered one of the best gaming tokens to invest in now due to its applications in the GameFi industry. Lucky Block is a BSC-based asset that has leveraged the Binance Smart Chain's low fees to grant crypto investors and traders more seamless transaction processes. In addition, the project aims to improve transparency and build trust among players during tournaments and competitions. Read here how gamefi work.
ApeCoin ($APE)
ApeCoin (APE) is an ERC20 governance and utility token used to manage the ApeCoin ecosystem. It serves the Bored Ape Yacht Club community and related communities. The crypto asset ranked as one of the top crypto gaming tokens and was created to incentivize and empower the decentralized community. It is being airdropped to holders of Bored Ape Yacht Club and Mutant Ape Yacht Club, and additional ones are allocated to holders that also have the Bored Ape Kennel Club.
The Sandbox ($SAND)
The Sandbox ($SAND) is a virtual gaming platform that onboards gamers and GameFi enthusiasts to play and get rewards. The platform combines the unique features of DAOs and non-fungible tokens (NFTs) to create a decentralized ecosystem for players. In addition, the platform focuses on creating a creative play-to-earn (P2E) model allowing users to be creative and play games simultaneously.
Axie Infinity ($AXS)
Axie Infinity is one of the earliest play-to-earn and still best play-to-earn gaming platforms to come aboard the crypto space. It is a blockchain-based trading and battling gaming project partially owned and operated by its gamers. Axie offers players the opportunity to buy, collect and trade the in-game's creatures, known as Axies which can take many forms, with over 500 parts available.
Decentraland ($MANA)
Decentraland is a 3D VR platform that allows artists, creators, and crypto enthusiasts worldwide to interact with each other by sharing and monetizing their content. The platform was created for authors, companies, and individuals looking for an artistic medium or a source of entertainment. MANA, the project's native token, is used to facilitate transactions on the platform. Some of these transactions include acquiring virtual real estate (LAND), voting on LAND politics, and earning great rewards.
Metacade is a promising gaming coin for 2023, offering a comprehensive platform for gamers and developers alike. Its unique features and potential for growth make it a top choice for investors interested in the gaming crypto space. Explore more about the best crypto games to make money.
UFO Gaming (UFO)
UFO Gaming is a key player in the NFT gaming sector. Its platform allows for the creation, buying, and selling of NFTs, making it a popular choice for gamers and investors interested in the intersection of gaming and digital art.
Ultra (UOS)
Ultra is a gaming platform that offers unique opportunities for developers. With its own native token, UOS, it provides a crypto-friendly environment for game development and monetization, making it a top choice for developers looking to integrate blockchain technology into their projects.
Enjin (ENJ)
Enjin is a well-established name in the crypto gaming industry. With its robust platform and native token, ENJ, it offers a wide range of services for game developers and players, including the creation and management of virtual goods.
How To Invest In Crypto Gaming With GamesPad
GamesPad is the next-gen holistic gaming and Metaverse ecosystem. It offers an outstanding game incubator, launchpad, and NFT marketplace. As an investment company, GamesPad focuses on providing its community with the best crypto deals, always doing its own research and conducting due diligence before launching any project on its platform.
Do you want to start or grow the crypto portfolio with GamesPad and invest in the best IDO deals? Do you want to stake and farm $GMPD tokens or purchase the set of unique and valuable GamesPad NFTs? Then you're in the right place.
GamesPad's ecosystem is based on the Binance Smart Chain (BSC) blockchain. Top-notch industry experts behind GamesPad always up security by requiring that every new user goes through a Know Your Customer (KYC) procedure.
If you want to start investing in potentially successful crypto gaming projects during their initial development stage, you can opt to allocate your tokens through an IDO. Find out more here:
Create a wallet
Register and complete KYC
Activate your tier on GamesPad:
3.1. Buy $GMPD tokens
3.2. Purchase the GamesPad NFT
3.3. Lock-in $GMPD tokens and NFTs on the platform
Join the IDO deal on GamesPad!
You can also stake and farm your $GMPD tokens to activate your tier. Read more in this step-by-step guide to investing with GamesPad. Also you can explore the best crypto launchpad for 2023 year.
Disclaimer. This material should not be construed as a basis for making investment decisions or as a recommendation to participate in investment transactions. Trading digital assets may involve significant risks and can result in the loss of invested capital. Therefore, you must ensure that you fully understand the risk involved, consider your level of experience, investment objectives, and seek independent financial advice if necessary.