GameFi – The Fastest-Evolving Niche in The Cryptoverse
GameFi – The Fastest-Evolving Niche in The Cryptoverse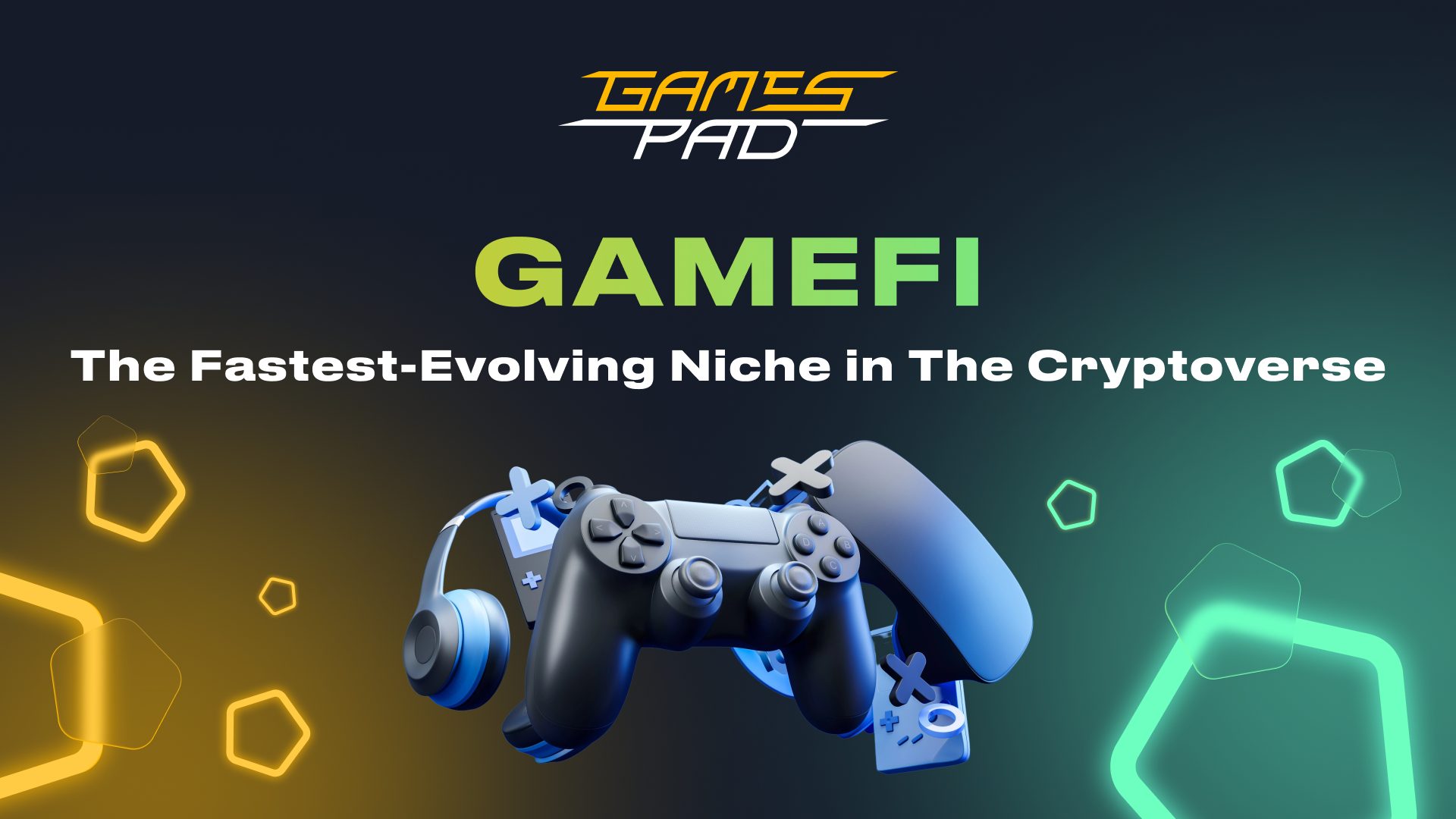 As the popularity of cryptocurrency continues to skyrocket, companies worldwide are looking for new unique ways to incorporate this revolutionary technology into their core products and services. In this arena, online gaming, in particular, has become the focus of new ideas. Developers are looking for better ways to buy and sell in-game items, unlock identity, and much more with crypto. The collision of the virtual and real worlds, the Metaverse, has never looked that attractive and promising.
The rise of gaming tokens has become one of the most notable events of 2021 in the crypto industry. Analysts, gamers, and crypto enthusiasts are confident in the incredible prospects and future success of GameFi as a service.
What is GameFi?
GameFi powers Blockchain games where players are financially rewarded based on the effort and time they invest in . This model is also known as Play-to-Earn. Tokens, upgrades, avatars and virtual land are all possible economic incentives.
Video gaming and GameFi
'GameFi' refers to the financialisation of video gaming. P2E business models are characterised by 'play-to-earn' (P2E) business models, and are primarily blockchain games that offer tokenised incentives to players instead of player-as-consumer models.
How Does GameFi works?
GameFi combines blockchain technology, non-fungible tokens (NFTs), game mechanics to create an environment where players can participate and receive tokens. Video games used to be stored on centralised servers. This gave developers and publishers access to all content within the games.
Blockchain in Active Service With the Gaming Industry
Blockchain technologies have been penetrating the gaming industry since 2014 when the first online casinos began accepting deposits in bitcoins. But only with the advent of non-fungible tokens (NFTs), it became possible to create games where players could be full owners of digital characters, objects, and different in-game items. And where there is property, commercial relationships are born.
Back in 2017, the CryptoKitties project with NFT kittens that could be bred and sold for tens of thousands of dollars demonstrated that playing online games can not only spend money… You can also earn money.
When GameFi started?
However, only during 2021, more and more developers and gamers became interested in such an opportunity. This led to the formation of a new market segment — GameFi (short for Game Finance).
This term refers to various gaming projects on the blockchain, including those using NFTs.
GameFi Classification:
There are several categories in the GameFi segment:
NFT games of various genres using the Free-2-Play and Play-2-Earn models;
game worlds or metaverse;
projects that provide tools for developing and distributing NFT games, as well as for transferring existing online games to the blockchain;
projects that allow using NFT in DeFi services.
Games launched in 2020 and earlier mostly worked on the Ethereum blockchain. However, high commissions forced developers to switch to cheaper and faster solutions. As a result, many games and other GameFi projects have been released on the EOS, Tron, Wax, Binance Smart Chain, and Polygon blockchains.
NFT Games: Remakes, Imitations, Half-Finished Projects
Since the beginning of 2021, the number of NFT games has grown exponentially. Only in the Playtoearn.net rating, there are more than 360 online games in the Free-2-Play and Play-2-Earn formats, where you can interact with NFT objects and earn cryptocurrencies. They cover all known game genres — from card games to economic simulators, strategies, arcades, racing, and more.
The GameFi infrastructure, similar to the entire crypto industry, has seen successful solutions that can be widely and freely borrowed. For example, the NFT game My DeFi Pet, powered by the BSC blockchain, is very similar to Axie Infinity: it also involves growing and breeding pets. And this is just a single example. Every day, there are many exciting GameFI projects, like HyperVerse GameFi, each of which is both different and similar to each other.
It is also interesting that many NFT-based games have not even reached the release stage yet. Still, their tokens are already traded on the leading exchanges and even enter the top 200 by capitalization.
Prospects and Risks of GameFi
According to many experts, the GameFi segment has a far-reaching future. Developers get new tools for the distribution and monetization of games, and millions of players worldwide get the opportunity to combine the gaming process with earnings.
How does GameFi make money?
Gamefi is a combination of blockchain games and Decentralized finance (DeFi) called "play-to earn". It refers to the monetization and rewards that gamers can earn via the Play-toearn model.
GameFi successful examples
The financial success of just one Axie Infinity continues to push hundreds of teams worldwide to release NFT games in various genres, so in 2022 we can expect a large number of exciting and, more importantly, potentially successful releases.
However, do not forget about the potential risks. Developers should pay special attention to graphics and avoid monotonous gameplay. Monotonous gameplay and low engagement lead to the fact that interest in new games quickly wanes.
How Play-to-earn works?
In addition, existing economic models in Play-2-Earn games are sustainable only with a constant influx of new players with their money and hopes for a quick return on investment. It is likely that with the decline in the game's popularity, NFT items and game tokens will rapidly depreciate.
This suggests that game tokens are suitable for speculative play at a time of growing popularity of NFT games but hardly suitable for long-term investment. But the fate of infrastructure projects that provide blockchain tools for developers causes much more minor concern and more hope for real success and further development.
GamesPad, the world's first holistic gaming, NFT, and metaverse ecosystem, backed by the industry experts at BullPerks, a decentralized VC and multichain launchpad that achieved 9500% of ATH ROI after only six months, seems to be the perfect example of an infrastructure project that clearly has a future and every chance of success.
It is a one-stop-shop for everything GameFi, metaverse, and NFT, bringing together a gaming incubator, game-specific multichain launchpad, decentralized venture capital, NFT aggregator and marketplace, in-house game studio, and much more. The team's core mission is to support and incubate game entrepreneurs through its comprehensive ecosystem, offering them mentorship, advisory, and network connections in the gaming and crypto space. Explore TOP GameFi projects in 2022.
GameFi Is the Next Big Thing
By the end of 2021, the number of blockchain games has grown to over 544 active decentralized applications. In the first week of January alone, the top 10 of these games processed over $841 million in transaction volume and attracted over 2 million unique active cryptocurrency wallets. While many of these games are pretty simple and basic, last year, venture capitalists poured $4 billion into projects like Forte, which offers tools for creating play-2-earn games. The result could be so-called AAA-quality video games with more powerful graphics, more addictive gameplay, and potentially more earning opportunities.