Recap: AMA Session With InteractWith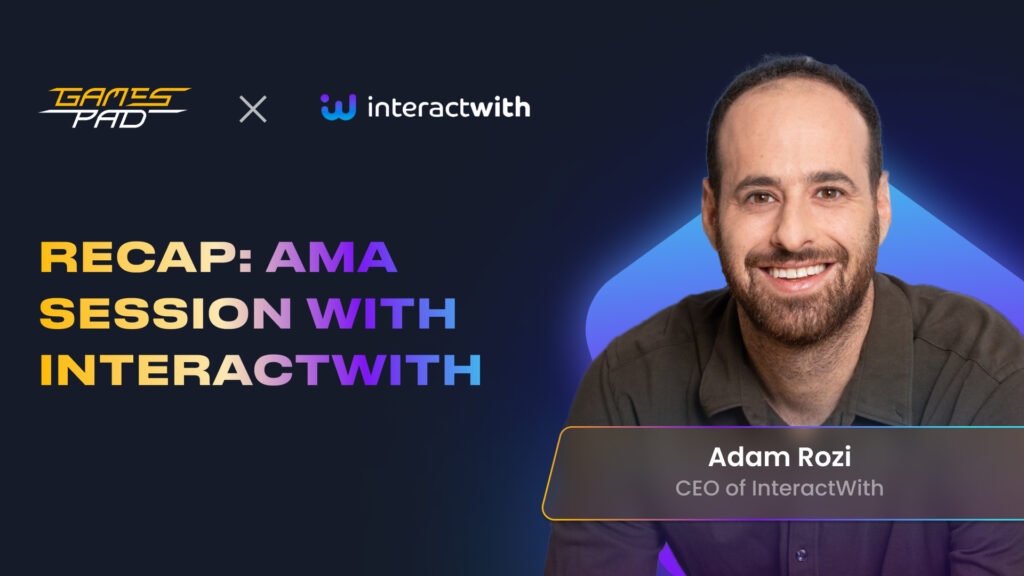 GamesPad held a new AMA session with Mr. Adam Rozi from InteractWith, a web3 infrastructure company that provides plug-and-play solutions for developers.
InteractWith is the ultimate game-changer for app developers. Their plug-and-play SaaS empowers apps with Web3 capabilities, allowing users to enjoy benefits such as more revenue streams and greater user retention levels – all without any need for Blockchain expertise or regulatory hassles. The integration is totally easy going, and also brings more engaged users and reduced acquisition costs.
This exciting project aims to discover revolutionary value exchange opportunities within the blockchain landscape. With Web3-driven experiences for gaming apps, they're committed to pushing boundaries, creating immersive entertainment and rewards with every interaction.
The IDO with InteractWith is coming on GamesPad soon and we are thrilled to host an AMA session with InteractWith's CEO, who told us more about the project and upcoming plans. Read on!
GamesPad admin: Hello, everyone! Dear community, welcome to the external AMA session with Mr. Adam Rozi from InteractWith. He is here to answer all your questions. Ready? Then let's get it started!
Adam Rozi (InteractWith CEO): Hey everyone👋🏻 It's great to be here and answer your questions! Thank you all for attending, and I can't wait to start 🙂
GamesPad admin: Hello, and very welcome, Adam! I hope you're having a great day!
Adam Rozi (InteractWith CEO): Thank you! I'm having a wonderful day! I hope you do too!
GamesPad admin: Thank you! So, let's start the first session of the AMA. I will ask some important questions in this session. 🙂
Adam Rozi (InteractWith CEO): Let's do it!
GamesPad admin: Perfect! So, the first question of this session: can you briefly describe your project to our GamesPad community?
Adam Rozi (InteractWith CEO):
With pleasure!
InteractWith is a web3 infrastructure company that provides plug-and-play solutions for developers to easily integrate blockchain technology into their apps and games. The company's mission is to make blockchain technology accessible to all developers, regardless of their technical expertise or budget.
InteractWith's products include an API, SDKs, a dashboard, and a wallet, all of which can be used to create, manage, and integrate non-fungible tokens (NFTs) into any app or game. This allows developers to add new features, create new revenue streams, and engage their audiences in new and exciting ways.
One of InteractWith's core offerings is its social wallet, which provides users with a simple and intuitive way to manage their digital assets. The social wallet is designed to be user-friendly, with a familiar interface that makes it easy for anyone to use, even if they have no prior experience with blockchain technology.
InteractWith is also focused on creating a bridge between the traditional finance industry and the world of blockchain. The company's fiat-to-crypto onramp infrastructure allows users to buy NFTs using their credit cards, making it easy for people who are new to cryptocurrency to get started.
InteractWith has a strong community of developers and users who are passionate about the potential of web3 technology. The company is committed to creating a more open, decentralized, and transparent world and is constantly exploring new ways to leverage web3 to achieve this goal.
GamesPad admin: Amazing! Looks like another revolution in the industry. Moving on, how does your project stand out?
Adam Rozi (InteractWith CEO): Great question. InteractWith stands out in several ways:
User-friendly interfaces: InteractWith offers simple and intuitive user interfaces for its products and services, making it easy for even non-crypto users to interact with web3 technology.
Focus on social interaction: InteractWith is developing a social wallet that will enable users to interact with each other in a decentralized and secure environment, creating a new paradigm for social interaction.
Cross-chain interoperability: InteractWith's products and services are designed to be interoperable across different blockchain networks, enabling users to access and transact with multiple cryptocurrencies and NFTs in one platform.

Fiat-to-NFTs payment gateway: InteractWith's payment gateway allows users to easily convert fiat currencies into NFTs, making it more accessible for new users to enter the web3 space.
Plug-and-play solutions: InteractWith offers plug-and-play solutions for game developers, enabling them to easily integrate web3 technology into their games without the need for extensive technical knowledge.
Overall, our focus on user-friendly interfaces, social interaction, cross-chain interoperability, fiat-to-crypto payment gateways, and plug-and-play solutions sets us apart from other players in the web3 space.
GamesPad admin: Interesting! 🙂 What are the key features of the project?
Adam Rozi (InteractWith CEO): InteractWith offers a unique suite of products and services designed to help individuals and businesses utilize decentralized, blockchain-based networks. The company's key features include a fiat-to-NFT payment system that allows users to easily create and purchase NFTs using traditional payment methods, a comprehensive dashboard that provides real-time analytics and insights into NFT sales and performance, and a social wallet that enables users to easily store, manage, and trade their NFTs.
One of InteractWith's primary advantages is its focus on user experience. The company's products are designed to be intuitive and user-friendly, with a particular emphasis on making it easy for non-technical users to participate in the NFT ecosystem. Additionally, InteractWith has a strong commitment to security, leveraging industry-leading technologies to ensure that users' assets and data are always safe.
Another key aspect of InteractWith's offering is its plug-and-play solutions for game developers, which can help accelerate the adoption of blockchain technology in the gaming industry. By simplifying the integration of blockchain and NFT functionality into games, InteractWith is poised to help unlock new revenue streams and create new opportunities for game developers and web2 brands.
GamesPad admin: I'm glad to see you are especially focused on user experience ✌️And now, please, tell us more about your team, backers, and advisors.
Adam Rozi (InteractWith CEO): With pleasure. We have a talented and experienced team with diverse backgrounds in technology, finance, marketing, and design. Our team is composed of individuals who are passionate about web3 and its potential to transform industries.
Our team is led by me. I'm an experienced CEO with a track record of leading Deloitte's blockchain consulting department for 3 years and co-founding a public blockchain company that provides fintech solutions for financial institutions.
Omaz, our Chief Business Development Officer, is a seasoned executive with a proven track record of success in the tech industry. He has founded Defish.Games, a web3 game studio.
Miroslaw, our Chief Technical Officer, is a skilled and experienced CTO with a strong background in technology. He is a super-full stack developer with a deep understanding of web3 and game studio architecture, and has successfully exited a social network app in the past.
Alexey, our Chief Product Officer, is a talented CPO with a wealth of experience in product design and management. He has successfully led a web3 game studio and managed a team of 40 employees.
Dean, our marketing wizard, is well experienced with web3 marketing strategies.
As for the backers and advisors, we are backed by industry-leading players such as Poolz Ventures, OMSBlock and Moondot capital.
Our advisors include the founder of Bancor (top 3 DeFi protocol), and the CIO of Swash.
In addition, we have a vast network of colleagues from the web3 and gaming space that support us.
What's common to all our team members is our highly execution-oriented approach and our mutual passion for web3 and gaming.
GamesPad admin: Great! A team acts like a backbone of a project — InteractWith has great minds behind it. Truly appreciate it.
The last and the most crucial question of this session is, please, tell us more about the short-term and long-term goals of InteractWith?
Adam Rozi (InteractWith CEO): So, we have both short-term and long-term goals aligning with its mission of simplifying the transition and harnessing decentralized, blockchain-based platforms for businesses and individuals.
In the short term, we aim to build our social wallet, a mobile application that will provide a simple and user-friendly way for individuals to manage their NFTs and other crypto assets while interacting with decentralized applications. The social wallet will include features such as easy-to-use fiat-to-NFTs conversion, NFT management, and social sharing capabilities. The goal is to create a seamless experience that bridges the gap between traditional web2 users and the decentralized web3 ecosystem.
In the long term, our plan is to become the leading onboarding channel to web3, helping businesses and individuals make the transition to decentralized platforms by providing easy-to-use tools, educational resources, and live customer support. This involves partnering with key players in the blockchain space to integrate their services into the InteractWith platform. The company also aims to expand globally, reaching new markets and providing access to DeFi and other blockchain-based services to users around the world.
To achieve these goals, InteractWith is backed by a strong team with a diverse set of skills and experiences, as well as a network of strategic advisors and partners in the web3 space. The company is committed to building a sustainable and scalable business that delivers value to its users and stakeholders while also driving innovation and growth in the web3 industry.
GamesPad admin: Perfect. Now we will move onto the next section. Let us now open the channel for our community's questions.
Adam Rozi (InteractWith CEO): With great joy!
Gutredume1: How is InteractWith planning to use decentralized platforms to improve productivity in the gaming industry?
Adam Rozi (InteractWith CEO): Our focus is on improving the gaming experience for the users and the monetization for the game developers.
Max Bulochkin: What are the digital assets supported by Interact Wallet?
Adam Rozi (InteractWith CEO): We plan to support all types of NFTs and all the popular fungible tokens while being able to mint NFTs to any EVM chain and most popular non-EVM ones.
Max Bulochkin: Thanks!
Shark: Educational resources? What does that mean, like in which sense?
Adam Rozi (InteractWith CEO): That means we are creating lots and lots of educational materials on how exactly to integrate web3 capabilities into your app, we have text based tutorials, videos, and in the near future live support teams to guide the developers for easy integration of web3 into their app/game.
Thomas Jonson: Are there any benefits for $INTER token holders?
Adam Rozi (InteractWith CEO): Once our product is released, you will be able to get discounts and special features that can only be accessed by holding a $INTER native token. The utility of the token is a payment method within our platform. In addition, we plan to integrate revenue conversion – a percentage of revenue will be converted to $INTER tokens that will be burned out of circulation.
Froth: Are there any CEX listings short term in plan?
Adam Rozi (InteractWith CEO): We're in talks with several CEXs, but still nothing is announced.
Froth: Thanks!
GamesPad admin: Let's wrap it up. If you wanna add something, please, mention it, Adam. 🙂
Adam Rozi (InteractWith CEO): Thank you all for participating and for your interest and attention! And special thanks to you for hosting this AMA! Please, join our community to stay up to date with everything that we're building and achieving. I hope to see you all in our upcoming launch! Feel free to reach out if you have any more questions! https://t.me/Interactwithofficial
John McD: How many platforms are you using for IDO's and can you name them? There seems to be several. Also when is the listing date, please?
Adam Rozi (InteractWith CEO): The listing is set for 19.03.2023.
John McD: Perfect, thank you. Who are your main investors? I know there is a backers and partners section of the website with some great names, but who are your largest investors?
Adam Rozi (InteractWith CEO): Poolz ventures are an investor alongside Moondot capital and OMSBlock and the rest are partners and collaborations 🙂
John McD: Thanks!
GamesPad admin: Great AMA, Adam, and thank you! It was amazing to have you here today!
Adam Rozi (InteractWith CEO): Thank you all for participating and your interest!
GamesPad admin: Thank you, everyone, for joining us today, and we sure had a blast!