The Top 12 Successful Crypto Launchpad Projects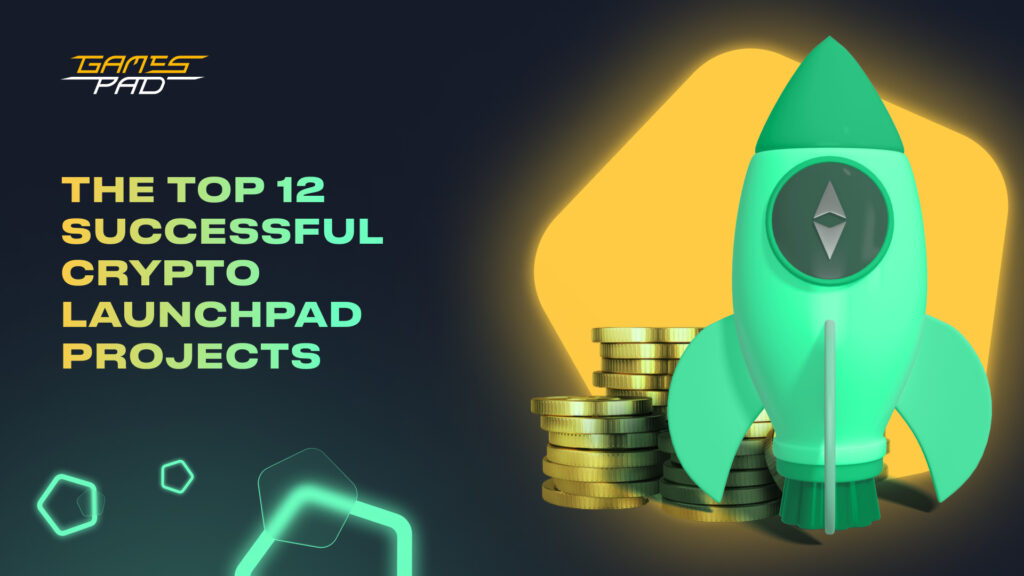 If you are a crypto enthusiast looking to invest in new crypto projects, you must know where to find such and invest safely. If you are an experienced investor looking to benefit from the most promising blockchain projects in the long term, you also need a safe place where you can do so.
Finally, if you are a startup looking for a platform to launch your blockchain project and raise funds, you also need to find a place to do it safely and without breaking the law.
The best option is to choose one of the launchpads for crypto. If you find the right one, you can be confident that you will achieve your investment or fundraising aim. To help you find the top crypto launchpad, we have prepared a comprehensive guide on top crypto launchpad projects in the market.
What Are Crypto Launchpads?
Crypto launchpads are platforms that help new crypto projects to raise funds through initial exchange offerings (initial DEX offering, or IDO), or Initial Coin Offering (ICO).
What are the benefits of using a launchpad?
A curated token launch platform or we refer to it as a crypto launchpad, provides investors with a secure and efficient way to invest in promising projects and benefit from the lucrative IDO and ICO market.
Benefits for investors
As we know, not all projects have perspectives to succeed. Teams are launching projects every day, and only a small part of them are high-quality crypto projects.
A reliable IDO launchpad always performs its due diligence to ensure that only the best projects are available for investing for venture capitalists and retail investors.
Benefits for startups
For new projects, benefiting from crypto launchpad work offers numerous advantages, too.
So, top-quality IDO platforms help new projects raise funds at the early stage of their development. They get access to venture capital and can benefit from the marketing support experienced marketing partners provide.
Community building is another benefit provided by an effective decentralized launchpad.
What Is the Difference Between ICO and IDO?
When you are selecting between an IDO or an ICO, you need to know what benefits you get in each case and what risks you are going to face.
ICO: pros and cons
An ICO model has been around for a long time. It is a more established model that allows new projects to distribute tokens, but it is also more regulated. The early-stage project must comply with many initial token sales regulatory requirements. Therefore, this model is not used as frequently as it was.
IDO: pros and cons
Unlike initial coin offerings, coins normally have a very low market capitalization when a project moves to a crypto IDO. It happens because of the vesting conditions of a native token. The exciting new projects normally do not raise much money through an IDO.
But the main benefit of an IDO is that good crypto projects are very likely to grow in value, and thus, investors who manage to benefit from the time when a token launches on a leading cryptocurrency exchange can get multiple returns on their investments.
Another point is that a project may launch its IDOs on multiple blockchains such as Ethereum, Binance Smart Chain, Solana, and elsewhere. Such multi-chain IDOs allow to raise more money and provide early access to all those who may be interested in the project.
If a project raises funds for an IDO, it can raise liquidity faster than it happens in the case of an ICO.
The Top 12 Crypto Launchpads in 2023
The best crypto IDO can be found on the top IDO launchpads. We have compiled a list of the most successful IDO crypto launchpad options for you to choose from.
BullPerks Launchpad
BullPerks is a decentralized community VC and a multichain launchpad. It is one of a few leading launchpads that supports all major blockchains such as Binance Smart Chain, Cardano, Solana, and, needless to say, more popular such as Ethereum.
The IDO crypto launchpad applies a 6-tier system in which each tier depends on the number of native BLP tokens that the user locks on the platform.
BullPerks not only offers support to promising crypto projects. It is a blockchain innovation hub that has helped many gaming projects to benefit from investments and get exposure in the crypto world.
Since August 2022, the launchpad has assisted more than 50 projects in raising funds.
Binance Launchpad
Binance launchpad is a leading token launch platform that belongs to Binance, a crypto trading platform that has been a leader in the industry for many years. So, it is Binance's own token launch platform.
Binance launchpad helps promising projects start their way in the crypto space and assists them with marketing and exposure to the exchange's global community. So, Binance launchpad has constantly been responsible for the big success stories in the crypto world, with the BitTorrent token being one of them.
Binance launchpad is more suitable for projects that have a clear vision and deliver value to the crypto industry.
Ethereum Launchpad
Ethereum launchpad is a one-stop solution for all projects that want to try their luck. It even allows users to create their own cryptocurrencies and then launch an IDO in the hope of raising funds for further project development.
This crypto launchpad is powered by the Ethereum blockchain and uses smart contracts to organize and manage token sales.
DAO Maker
DAO Maker is one of the community-driven crypto launchpads that aim to reinvent the token offering. Instead of focusing on ICO or IDO offerings, this token sale launchpad Strong Holder Offerings (SHO). In such offerings, eligible investors are selected based on their activities in the ecosystem and the support they provide.
Polkastarter
Polkastarter is not a separate token launch platform but a protocol built on top of the Polkadot network. This crypto launchpad allows projects to organize decentralized open sales in the secure environment of this decentralized incubator.
The protocol uses the functionality of this innovative blockchain ecosystem to prevent whales from manipulating the market and enable startups to benefit from cross-chain token exchanges.
Gate.io Launchpad
Gate.io launchpad is another platform that offers a launchpad and IDO market. Gate.io launchpad allows promising blockchain projects not only to raise funds but also to increase their brand awareness and build a community. The participants for token sales are picked by Gate.io launchpad based on a first-come, first-served basis, which may not be too convenient for venture capital investors.
Gate.io launchpad is suitable for crypto enthusiasts and those who want to try themselves as investors in the world of crypto.
OKX
OKX is backed by one of the main players in the crypto industry. The project is OKX's own token launch platform that helps promising blockchain projects raise funds on their token sales and build a supportive and loyal community.
This token sale platform assists projects not only with token sales but by connecting them to its own global community and thus, helping them to grow their brand awareness.
Solster Finance Launchpad
Solster Finance Launchpad is launched within the Solana ecosystem to assist projects that live on the Slonala blockchain. It is one of the first decentralized IDO platform options that specializes exclusively in Solana-based projects.
Along with investing in new projects by participating in token sales, this crypto launchpad offers to benefit from staking opportunities to get additional benefits.
GameFi Launchpad
GameFi is a one-stop hub for GameFi, as it is possible to guess from the name of the crypto launchpad. Along with token sales, users can benefit from creating their own Initial Game Offerings and participating in existing ones directly on this platform.
GameFi allows users to gain early access to top gaming projects in the crypto market by participating in the initial token allocation and to stake tokens, earn from their activities on this IDO crypto launchpad and join gaming guilds.
PAId Network Launchpad
This launchpad aims to redefine the crypto investment industry by providing a simple and affordable dApp for users and businesses to ensure that they all get paid – this is the idea behind the crypto launchpad name.
This crypto launchpad leverages Plasm to operate seamlessly on the Polkadot and Ethereum ecosystems, and smart contracts make all the deals and further operations on them seamless, fair, and accurate.
FireStarter Launchpad
FireStarter is one IDO launchpad that concentrates on metaverse development and GameFi. This crypto launchpad runs on the Polygon network – a detail that allow for reducing the expenses for launching a native utility token sale for project creators. It also allows for a higher scalability level and enables the onboarding of more projects and more users.
Polygon is a blockchain that connects all Ethereum-compatible projects.
One of the most prominent features of this crypto launchpad is its vivid and supportive community. The industry's unparalleled social reach and impact are other major characteristics of this crypto launchpad.
Seedify
Seedify is not an ordinary launchpad but a seed-stage investment fund. It is basically a decentralized DAO-powered launchpad and incubator that enables new projects that can change the industry to get funds.
The projects to participate in the Seedify offerings are selected by the community, its feedback, governance, and the systems of funding.
If you believe your project is worth attention and money, you can submit it to the Seedify community to see if they believe so, too. If yes, you can count on the funding.
How to Select a Launchpad
When choosing a token sale platform for your project for fundraising or to purchase tokens of a new promising crypto project, you need to check a number of parameters. For investors, it will reduce the risks associated with investing in crypto. For projects, it ensures access to top-quality funding options, expertise, technical support from leaders in the market, and other perks that come with using expert help.
Make sure the launchpad has been in the market for a while
Even though there are many promising young companies, and the crypto industry is still very young, it is better to select a decentralized exchange platform or a crypto launchpad with some experience.
Check the crypto launchpad reputation
It is a standard recommendation for whoever is going either to fundraise or to invest some funds on any platform. And there is no exception for crypto launchpads. If you see that there are some issues or fraudulent activities on a crypto launchpad – stay away from it.
Some crypto launchpads deliver a higher ROI than others
This indicator is significant for investors. There are IDO launchpads where almost every project can get funding, while there are those that perform very proper due diligence. The latter ones choose the best projects. That's why they deliver more profit to the investors and are considered better.
Check the networks supported
Some launchpads support only one or a limited number of blockchains. Thus, consider it if your project is launched not on the most popular blockchain.
Make sure the wished functionalities are available
Some launchpads have limited functionalities. So, an own token launch platform may offer a function of token creation, while a simpler launchpad may not provide this opportunity.
There are platforms where you can use the functionality of a decentralized auction solution, so if you are aiming at selling your tokens or NFTs in an auction, you might want to choose such a platform from multiple available crypto launchpad projects.
Conclusion
Crypto launchpads have become an essential part of the crypto ecosystem, providing startups with access to capital while allowing investors to participate in new projects. With so many options available, it's important to do your research before investing in any project or using any launchpad. We hope this guide has provided you with valuable insights into the top crypto launchpads available today.
Would you like to start investing in the most impactful crypto gaming, NFT and metaverse projects with GamesPad? Learn how in this comprehensive tutorial!
Disclaimer. This material should not be construed as a basis for making investment decisions or as a recommendation to participate in investment transactions. Trading digital assets may involve significant risks and can result in the loss of invested capital. Therefore, you must ensure that you fully understand the risk involved, consider your level of experience, investment objectives, and seek independent financial advice if necessary.
More articles on this topic