Top GameFi Projects to Watch In 2023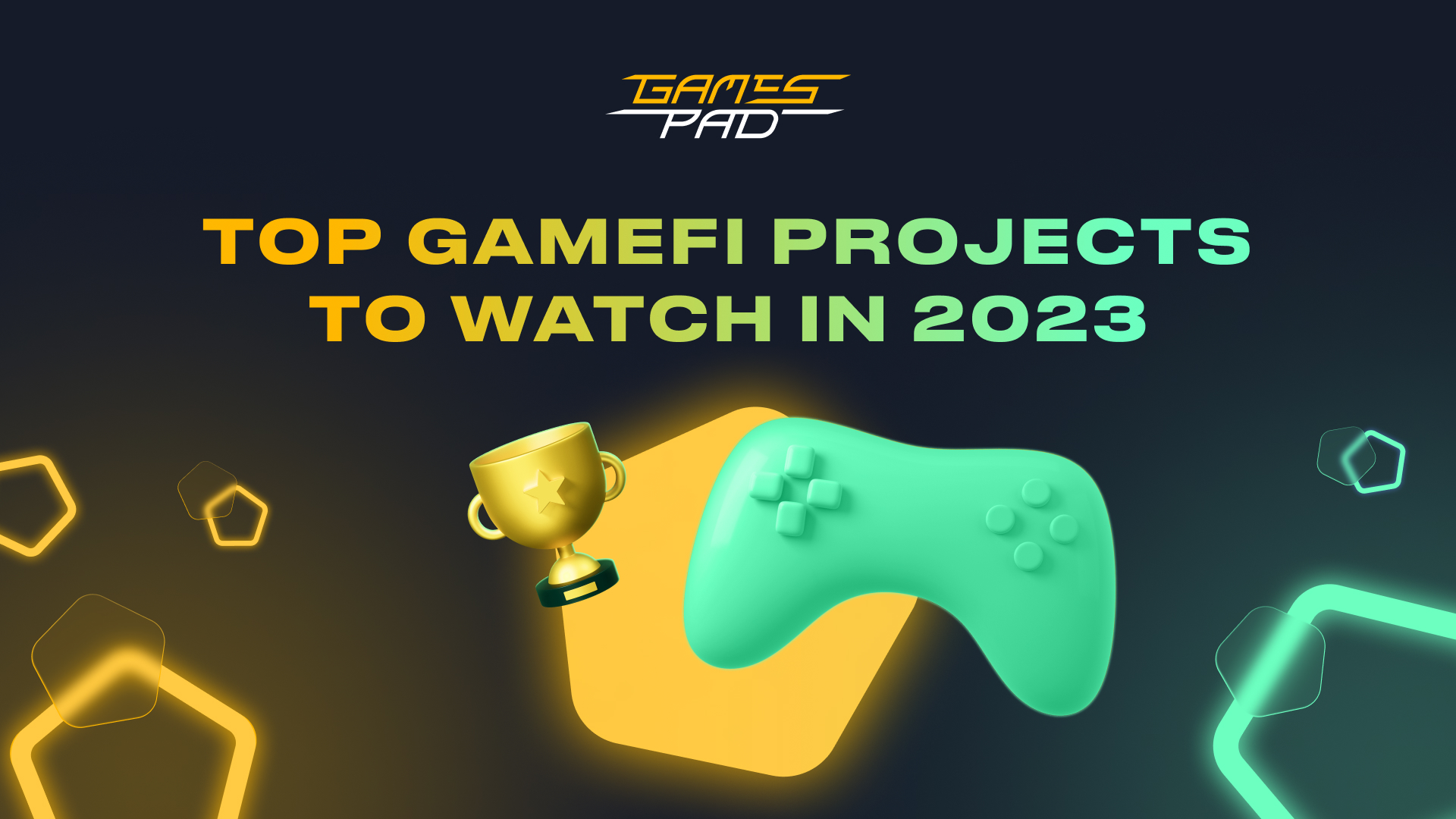 GameFi is rising as a popular crypto investing modality. Learn more about how to invest in GameFi and how to choose the most promising projects.
Known as GameFi, this new category of the gaming industry gained the spotlight in 2021, with new and established blockchain-based play-to-earn initiatives attempting to breathe new life into the sector. To achieve such a goal, game developers have invested in technological improvements that have enhanced the quality of games.
The GameFi segment is set to grow even more prominent this year. To keep our investing community ahead of this trend, we have selected the top GameFi projects 2023 to keep an eye on this year. Take a look!
What is GameFi project?
GameFi is, which stands for Game (short form for Video Game) & Finance. Game projects are a combination of the unique features offered by cryptocurrencies in order to allow users to earn an income from playing games.
How to Invest in Best GameFi Projects?
GameFi is leading the crypto universe, moving billions of dollars annually. Besides revolutionizing the gaming industry technology-wise, it is also presenting itself to be a highly profitable investment endeavor.
There are a few ways to invest in new GameFi projects:
Passive investments in crypto fund pools, such as farming and staking;
Investing in non-financial tokens (NFTs) in GameFi and Metaverse projects;
Investing in upcoming GameFi projects at their IDO stage.
While all these investing modalities offer impressive returns compared to traditional fiat money investments, financing IDOs has shown to be a flexible beginner-friendly model that also provides reasonable profits.
IDOs or Initial Dex Offerings are a method of subsidizing used by crypto-based initiatives and entrepreneurs. The startups can raise funds by issuing an IDO token or coin on the Decentralized Liquidity Exchange platform. These IDO tokens represent assets with a concrete price in crypto or fiat currency.
Criteria for Choosing a GameFi Project to Invest
Choosing a promising and reliable IDO project is the first step to a successful investment venture. Unfortunately, some fake projects are still out there, meaning to scam investors, so you'll want to look out for that.
Here are some features to look for while conducting due diligence to choose a project to invest in:
Without a doubt, security is by far the most critical attribute to look for on crypto-based projects. You should confirm the legitimacy of the initiative's social media and community channels and only invest through well-known and safe launchpads, like GamesPad.
Popularity and profitability
It is possible to know how popular a GameFi project is through social media. If it has a heavily engaged community waiting to access the game, it is more likely that the IDO returns will be highly profitable. The profitability also depends on how early the initiative development is. The earliest you buy the tokens, the higher the profits will be.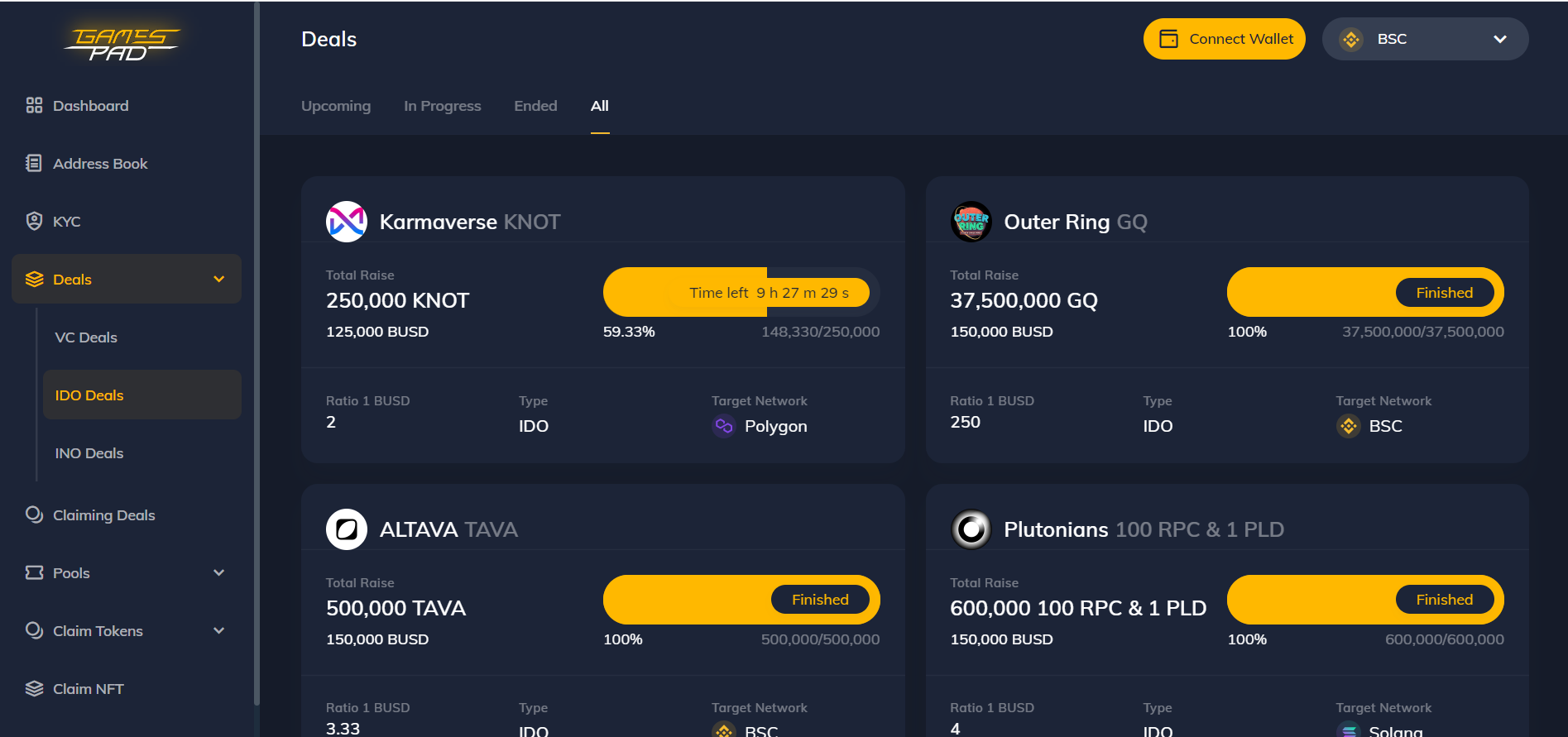 Top 10 GameFi Projects to Invest in
To help you on the quest to find the right project to start investing in top GameFi games, we have prepared a list of the most promising initiatives now available on the GamesPad platform. Check it out!
1. Outer Ring
Outer Ring is a sci-fi, MMO role-playing game with a token-based economy. Players can pick from five races and three factions to rule the galaxy and its resources. It also offers virtual reality elements, such as in-game concerts and events.
MetaverseMe converges fashion, music, and gaming to offer immersive experiences. The platform uses blockchain and NFT technology to power a marketplace for NFT creators and collectors to build their metaverse selves.
3. Taunt Battleworld
Taunt Battleworld is an auto-battler fighting game based on the Ethereum network. Players can own and manage mystical fighters to ensure their elite position on an apocalyptical everlasting battlefield by choosing the best battle strategy.
4. KARMAVERSE
KARMAVERSE is a metaverse that unifies several game worlds while also providing space and toolboxes for users to create their own games on the platform. The metaverse comes with an in-built universal marketplace where the players can trade NFTs and Tokens.
5. ALTAVA Group
ALTAVA Group is a project that combines fashion, gaming, commerce, music, and entertainment in one metaverse. Users will access the digital Altava Market and the Altava Worlds of You app that connects users to the market and functions as a social commerce gaming platform.
6. Plutonians
Plutonians is an MMORPG-NFT environment operated by a VR-Metaverse-Blockchain built on the Solana blockchain. Players can complete missions, accumulate NFT-supported Game Items, and trade across numerous marketplaces and social media in the metaverse.
MetaBloxz is a metaverse platform that uses crypto technology based on the Polygon blockchain. The art industry is its primary target, becoming a host to limitless arthouses, making art more accessible to art lovers, enhancing artists' visibility and reach, and offering space for brands to advertise their goods.
8. Gunzilla
Gunzilla is a game development company that aims to create titles that put the players' needs and wishes first to get lost in immersive experiences. The company is currently working on an innovative shooter IP to attend to many gamers' demands.
9. XMANNA
XAMANNA is a technology company that designs blockchain-based software concentrated on gaming, sports loyalty, and engagement. Its system is built on Polygon but is multichain, bridging major networks such as Ethereum and BSC.
MetaVision is a BSC-based metaverse project that offers virtual merchandising and advertising, P2E gaming, and life experiences. Each feature is allocated in a different area of the metaverse, which smoothers the users' experience. Check our article and explore top NFT games for IOS and android users.
Top P2E Games in 2023
1. Lucky Block
Lucky Block is the next-gen innovative GameFi platform hosted on the Binance Smart Chain. It offers gamers the chance to win a jackpot every day. These jackpots are paid out in the Lucky Block's native token $LBLOCK, allowing rapid prize distribution. Lucky Block also offers extra P2E features, including various raffles for digital and physical items.
2. Silks
Silks is not just a P2E game; it is also an entire Metaverse that serves as a bridge between reality and the virtual world where the horse racing experience is brought to life. The Silks platform combines training history, race records, breeds, bloodlines, and other data to create one-of-a-kind digital horses. Gamers can take ownership of virtual horses in the form of valuable NFTs linked to real-world thoroughbred racehorses. Every time a real-life horse triumphs in a race, users get $STT, the project's native token.
3. The Sandbox
The Sandbox is one of the best P2E GameFi projects, perfect for creative crypto enthusiasts. Built as an Ethereum-based open-world game, it is most comparable to Roblox or Minecraft. Players can design their own games, construct virtual worlds, and even organize adventures in the social center. Everything can be sold for a profit after. The project's most valuable resource is $LAND, a piece of The Sandbox Metaverse. Each piece of $LAND is an NFT that symbolizes virtual land ownership.
Top Move-to-Earn projects
Move-to-earn is the latest crypto trend where users can get paid for walking, jogging, and exercising. So users not only get fit but get paid for it as well. That is why this trend is skyrocketing and becoming more and more popular. Check out the most popular Move-to-Earn projects in 2023!
1. STEPN
STEPN is one of the most popular M2E projects in the Web3 and crypto world. It rewards its users for completing workouts — the more they move around, the more $GST tokens they get. After that, users can trade their $GST tokens for other cryptos. To start earning rewards, users need to purchase a unique NFT sneaker.
2. Genopets
Genopets is the world's first Move-to-Earn NFT game. It allows users to take part in the care and development of so-called Genopets. This M2E project combines three exciting game modes: Tamagochi nurturing and evolution, Pokemon training and battles, and Animal Crossing collecting and participation. Gamers should participate in Neon Genoverses before completing tasks and earning rewards in $GENE, the project's native token.
3. Sweatcoin
Sweatcoin is an exciting move-to-earn project and free-to-install smartphone application available on Android, Windows, and iOS. It works on the app's feature that counts the number of steps users walk daily to pay them in the project's native token, $SWEAT. So for every 1000 steps, users earn 1 $SWEAT.
Invest in GameFi Games With GamesPad
GamesPad is the world's first holistic gaming, NFT, and metaverse ecosystem. It is a gaming incubator, a game-specific multichain launchpad that provides all audiences a secure and flexible investing process.
GamesPad is centered on community, the platform's architecture ensures that everyone, including investors and entrepreneurs, has access to the resources they require to succeed. The team's primary goal is to help and incubate game entrepreneurs through its extensive ecosystem, including mentorship, advising, and the creation of network ties in the gaming and cryptocurrency industries.
Because security is an essential component of a great community experience, each project is reviewed by a team of expert specialists before being launched on GamesPad, ensuring that only the most promising and high-returning initiatives are available.
Would you like to start investing in the most impactful crypto gaming, NFT and metaverse projects with GamesPad? Learn how in this comprehensive tutorial!
Disclaimer. This material should not be construed as a basis for making investment decisions or as a recommendation to participate in investment transactions. Trading digital assets may involve significant risks and can result in the loss of invested capital. Therefore, you must ensure that you fully understand the risk involved, consider your level of experience, investment objectives, and seek independent financial advice if necessary.
FAQ
How do you make money from GameFi?
GameFi combines the DeFi features and blockchain games to allow us to earn income by staking. Some games allow players to make a profit by locking their NFTs and cryptocurrencies in smart contracts. In-game token holders and NFT holders can stake their tokens in gaming guilds to earn interest
What is GameFi coin?
GameFi is a combination gaming and DeFi. It is the intersection between blockchain-based gaming services and DeFi services.
How big is the GameFi market?
GameFi's total market cap has reached US $55.38B by February 2022. Blockchain gaming is expected to reach $50B by 2025. This growth rate is 10x that of traditional gaming.