Best Gaming Crypto Coins & Tokens to Invest In 2023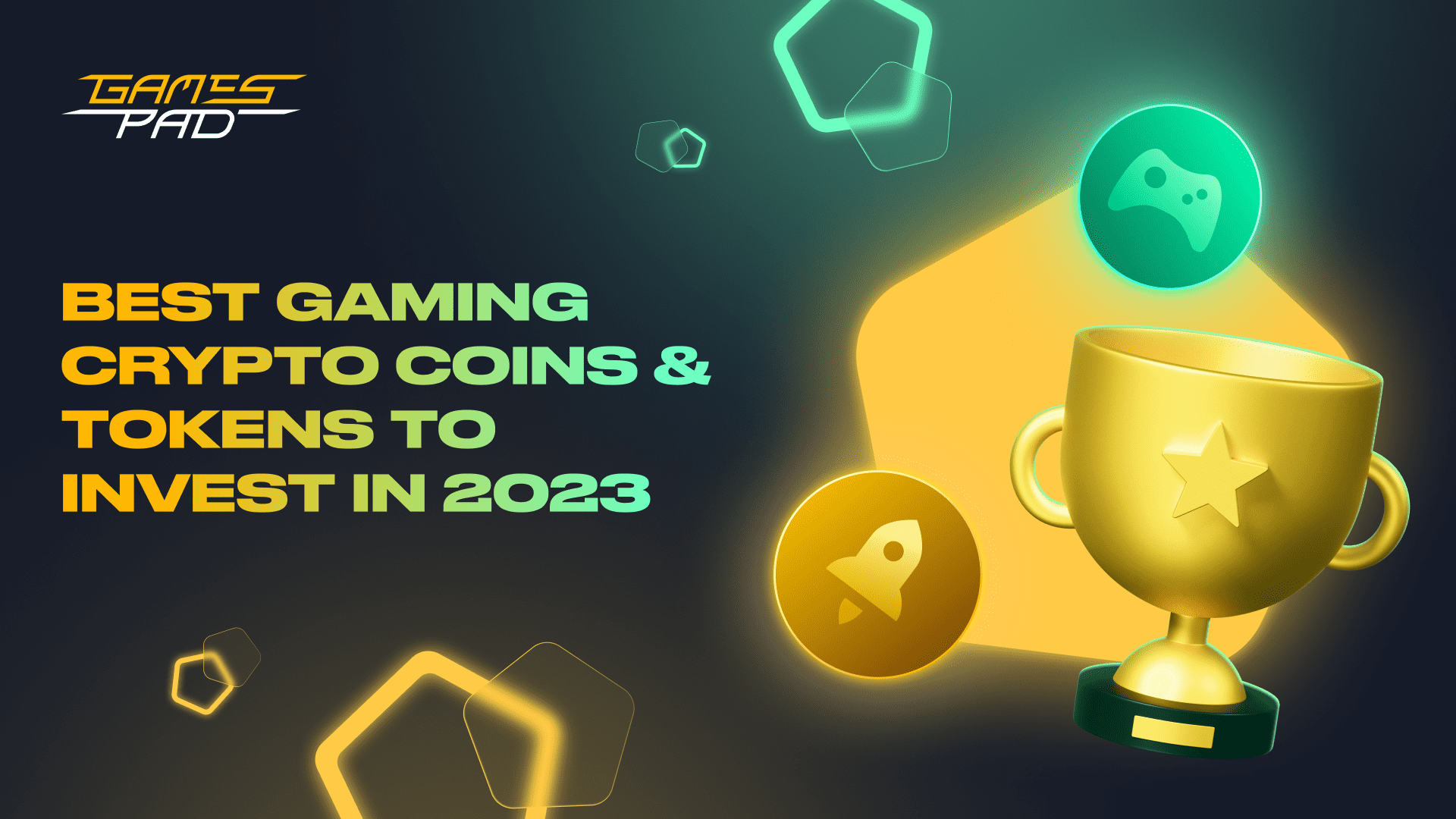 Learn more about what gaming crypto coins are and how they work. Get to know the best gaming crypto coins and tokens currently available.
Have you heard of gaming cryptocurrencies? With the emergence of the metaverse and other immersive AR/VR gaming experiences, the gaming business has achieved an all-time high globally over the last two years. In such environments, users can not only play games but can also acquire digital assets, like real estate and collectibles, all done with in-game crypto coins.
This new frontier in video gaming is possible mainly because of the union between blockchain technology and the gaming industry. This historical event gave new life to gaming while also providing players and investors with never-seen-before highly profitable opportunities in the crypto world.
Gaming is rapidly showing itself to be the next big deal in the crypto investment world, and choosing the best gaming crypto coin to invest in can possibly mean great long-term earnings for the investor. This article will cover everything you need to know about gaming crypto coins and how they work. Keep reading to find out which are the best performing coins at the moment!
Best Crypto Tokens to Invest in 2023
1. $MANA for Decentraland
Decentraland is a metaverse platform that runs on the Ethereum network that allows users to buy LAND and use it in any way they see fit. MANA is its native token, and it is utilized for all platform transactions, including the purchase of LAND.
People can purchase plots in Decentraland to farm, build structures, play games, implement digital tourism, or produce art. Players may also pick entire areas of the site, known as Districts, constructed around a particular theme, such as SteamPunk or CyberPunk.
2. $SAND for The Sandbox
The Sandbox is another popular decentralized platform that allows people to design 3D gaming environments and digital assets inspired by the classic Minecraft. This platform uses a variety of visual programming tools for the same goal and enables players to deposit their assets and collectibles on its virtual real estate.
Only 166,464 real estate (LAND) plots exist, but hundreds of game worlds are built on the Sandbox every day, causing plot prices to skyrocket up to US$ 50,000. Users may use the native token SAND to buy LAND.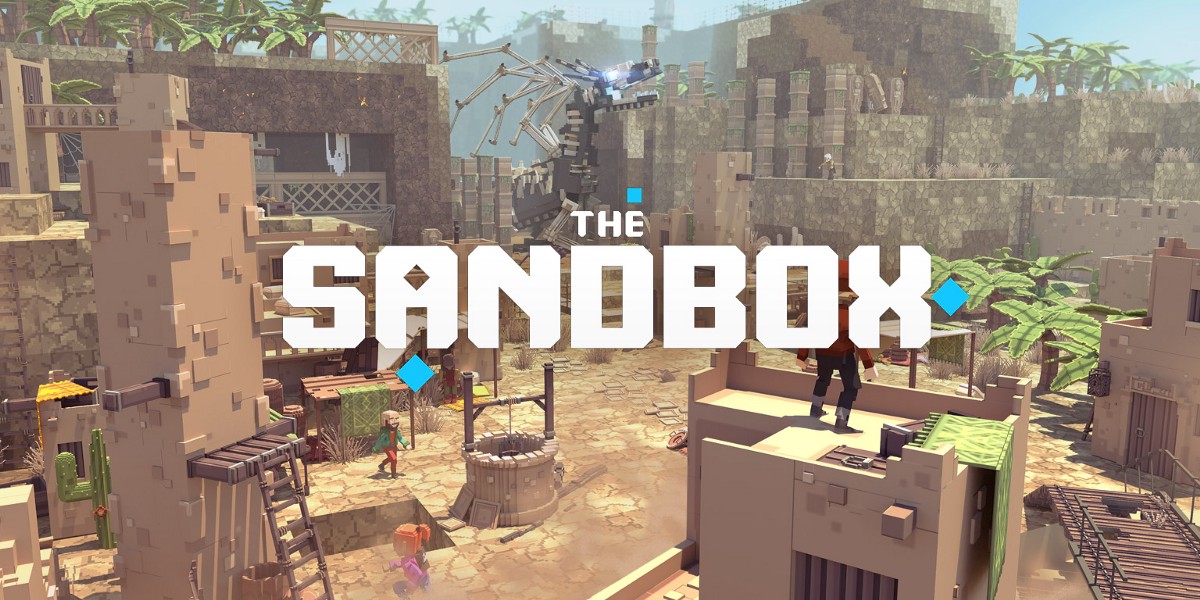 3. $AXS for Axie Infinity
Like CryptoKitties, Axie Infinity is a Pokémon-inspired game that holds the spotlight in the crypto gaming scenario. It allows its participants to buy, collect, battle, and exchange Axies, NFTs that a gamer must own to start playing.
Axie Infinity is also one of the first play-to-earn gaming platforms, with gamers earning AXS gaming tokens as they play. The stock price of one single token rose from US$ 0.54 to US$ 80 over the course of a year.
4. $DERC for DeRace
$DERC is the native token that powers DeRace's breeding and entry fees, making it one of the most inventive play-to-earn metaverses. This NFT horse racing metaverse is a unique idea in which you may breed NFT horses with unique features and compete in horse races.
Apart from owning racehorses, DeRace has a rich network across numerous social media channels and also assists you in building your hippodrome to make more $DERC.
5. $HERO for Metahero
Metahero is most commonly connected with the creation of high-definition avatars of real-world items and people utilizing 3D scanning. The business has even built a scanning chamber in Doha that scans items and produces their digital, 3D form for the Metahero realm.
HERO, Metahero's native currency, has a market valuation of more than $494 million and is used to complete transactions on the platform.
6. $ALICE for My Neighbor Alice
My Neighbor Alice is a multiplayer farm and building game still in the development phase. Inspired by Animal Crossing, players may purchase property on six islands, cultivate it, and purchase animals from the marketplace.
ALICE is the game's native token and can be used for marketplace purchases, and players may earn them by performing missions. Token holders can receive incentives by staking crypto.
7. $ILV for Illuvium
Illuvium is an open-world RPG featuring aspects of Final Fantasy and Pokémon. Players use Hunters to explore and capture Illuvials. These Illuvials are NFTs, and once captured, they are held in your wallet. Users may also earn ILV tokens by winning competitions and tournaments.
In anticipation of the game's release, the price and market cap of Illuvium have skyrocketed. The fact that the price has already risen is something to think about before investing.
8. $YGG for YieldGuild Games
Yield Guild Games is a decentralized organization whose goal is to increase the investment value in NFTs used in various games. It sells and rents NFTs, allowing owners to profit from their NFTs while other gamers can use them to play.
If you have any Axies or CryptoKitties, you might sell them through Yield Guild Games. Another user might then rent your NFTs for a percentage of their revenues from playing the game. Due to this innovative concept, it might perform well if the crypto and NFT gaming market continue to develop.
What Are Gaming Crypto Coins?
In-game economies and coins are not a new concept. In fact, most traditional video and digital games present their own currencies that players can earn and use to buy in-game items. However, blockchain and cryptocurrency technologies gave a new twist to such practice.
The First Crypto Token:
The first crypto game ever created was probably CryptoKitties, a Pokémon-inspired game where users could buy NFT kitties, evolve, breed, and promote battles between them. By completing those activities, the players would earn the in-game crypto token WCK, which has real-world value and can be traded for other cryptocurrencies or fiat money.
This encounter between the gaming economy and decentralized finance provided by blockchains resulted in GameFi, the crypto gaming financial system. With this approach, people can participate in virtual gaming metaverses, play to gain digital treasures, and become certified owners and collectors of a variety of digital components that abound in those gaming metaverses.
Because you'll need in-game currency to do any or all of the above in the gaming universes, cryptocurrencies became the fuel that supports the creation, development, and operation of these gaming metaverses. Game projects no longer need to be centralized in big publishing companies, as anyone can become an investor in a crypto-based independent game.
When Gaming Tokens Became Popular?
Gaming coins became wildly popular in 2021, mainly due to the pandemic and its lockdowns, with blockchain gaming businesses generating over $476 million in the first half of the year alone.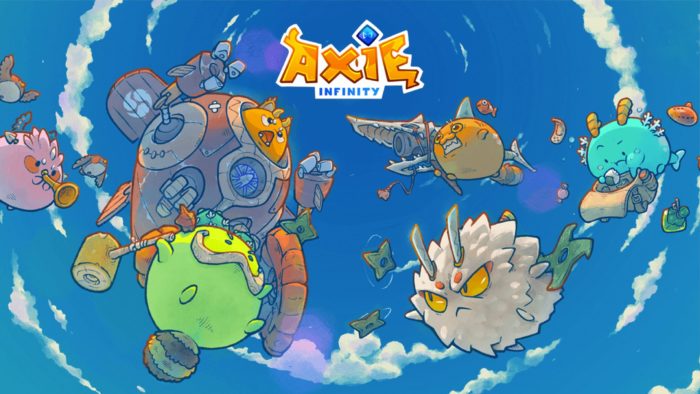 How to buy gaming crypto coins?
In short, gaming crypto coins can be bought on crypto exchanges. Here's a quick guide:
1. Learn which crypto exchanges are trading the desired gaming coin and which currency is required.
Each project typically lists on its website which crypto exchanges support its token. If you can't find this information on the project's media, you can also try checking CoinMarketCap. It is also essential to check which crypto or fiat currency the exchange requires to make the transaction.
2. Choose a platform to make your purchase and a wallet to hold the tokens.
In general, purchasing cryptocurrencies using fiat cash will be easier than buying tokens with another cryptocurrency.
Suppose you need to buy a gaming coin using another cryptocurrency. In that case, you must first create a compatible cryptocurrency wallet, then purchase the first currency and use it to purchase a gaming token on the specified platform.
Different platforms will also have different levels of security, reliability, and liquidity. Conduct due diligence before creating an account on any exchange or generating a new crypto wallet.
3. Buy the gaming crypto coin.
Most exchanges and crypto wallets offer in-depth guides to help you complete your purchasing transaction. Follow the guidelines thoroughly and you won't have any problems!
Invest With GamesPad
GamesPad is a holistic gaming and metaverse-focused ecosystem that offers a game incubator, launchpad, and NFT marketplace. As an investment company, we focus on providing our community with the best deals, always doing our own research, and conducting due diligence before launching any project on our platform.
You can start or grow your crypto portfolio with GamesPad, by investing in IDO deals, staking and farming your GMPD tokens, or purchasing our set of valuable NFTs. Our ecosystem is based on the BSC blockchain, and we add up security by requiring that every new user goes through a Know Your Customer procedure.
If you wish to start investing in crypto gaming projects during their initial development stage, you can opt to allocate your tokens through an IDO. Here are several steps to get started:
Create a wallet
Register and complete KYC (Know-Your-Customer procedure)
Activate your tier on GamesPad:
3.1. Buy $GMPD tokens
3.2. Purchase the GamesPad NFT
3.3. Lock-in $GMPD tokens and NFTs on the platform
4. Join the IDO deal on GamesPad!
You can also stake and farm your $GMPD tokens to activate your tier. Read more in this step-by-step guide to investing with GamesPad.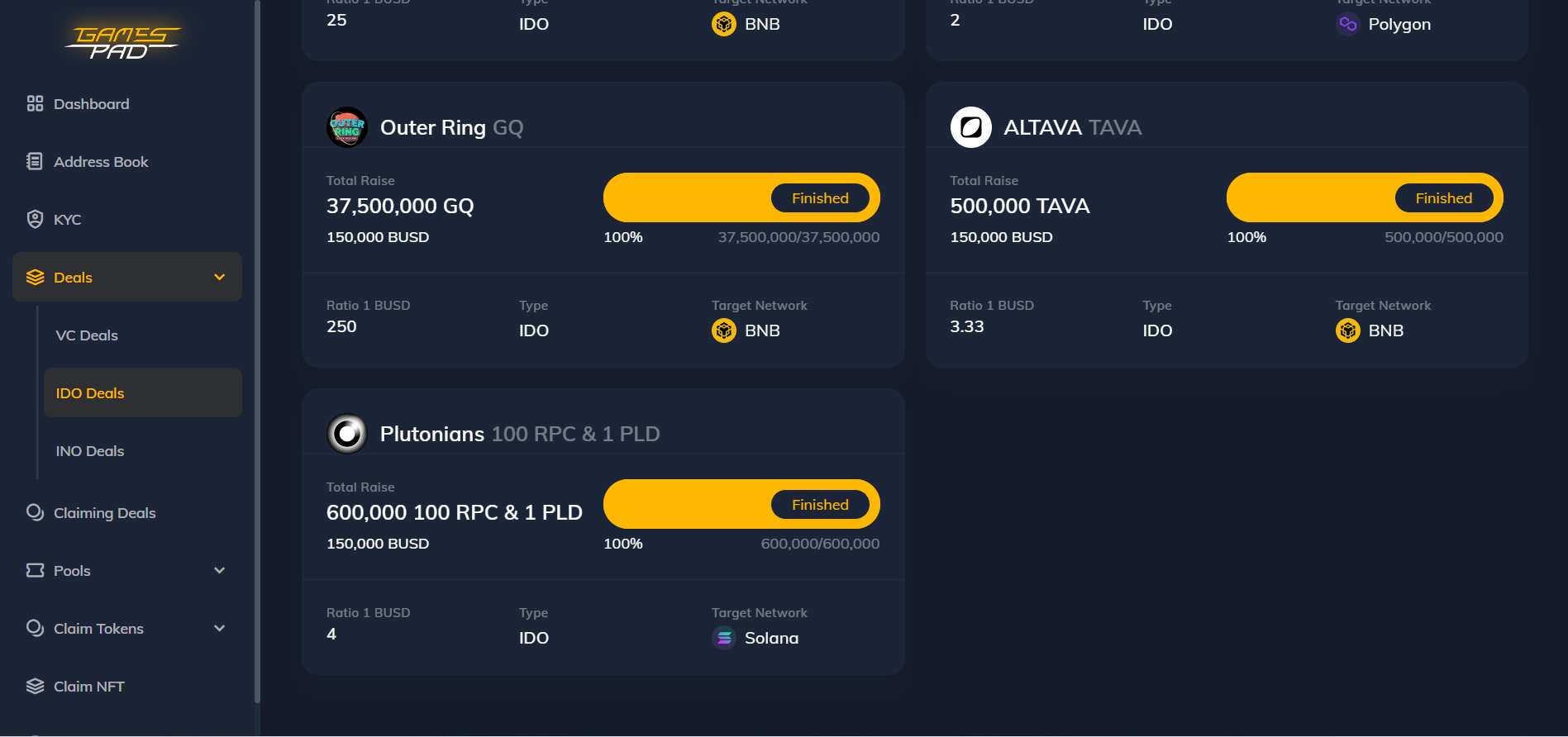 Bottomline
Although cryptocurrencies, gaming coins, and tokens are sometimes considered dubious and dangerous financial vehicles to be invested in, billions of coins and tokens are in circulation, according to CoinMarketCap statistics.
The ongoing growth of the blockchain gaming sector and the creation of metaverses are undeniable. Gaming money and tokens present a new horizon for economics, but there are no tried-and-tested outcomes to provide. As a result, it is critical to conduct an extensive study and comprehend the underlying principles of each game currency and token before investing.
Would you like to start investing in the most impactful crypto gaming, NFT and metaverse projects with GamesPad? Learn how in this comprehensive tutorial!
Disclaimer. This material should not be construed as a basis for making investment decisions or as a recommendation to participate in investment transactions. Trading digital assets may involve significant risks and can result in the loss of invested capital. Therefore, you must ensure that you fully understand the risk involved, consider your level of experience, investment objectives, and seek independent financial advice if necessary.
More articles on this topic